Alco PA – Pennsylvania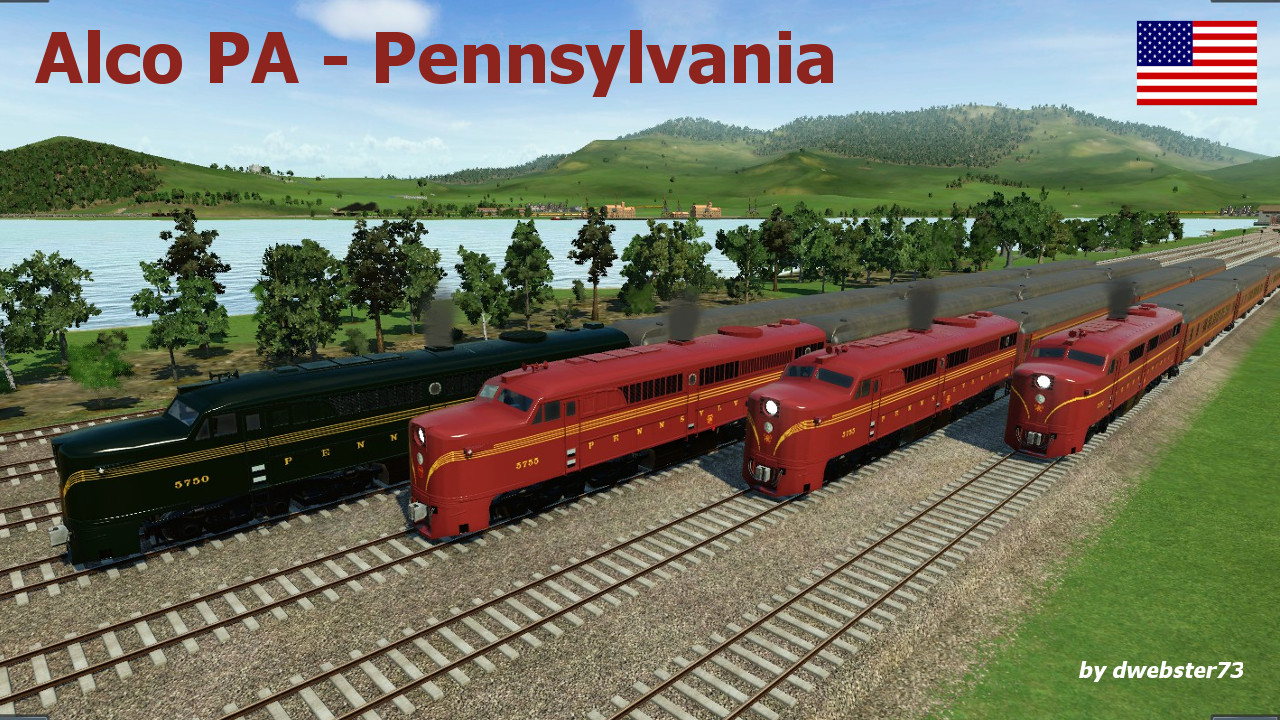 Description:
This mod adds an Alco PA/PB with Pennsylvania (PRR) livery for 4 eras:
1946-1952 Dark green with gold leaf lettering, 5 stripes.
1952-1953 Tuscan red with buff lettering, 5 stripes, Unit number on nose.
1953-1955 Tuscan red with buff lettering, 5 stripes, PRR monogram on nose.
1955-1968 Tuscan red with buff lettering, 1 stripe.
The Alco PA series has often been regarded as the most beautiful and aesthetically pleasing diesel locomotive ever built. P stood for Passenger and A referred to the unit having a cab.
The Pennsylvania Railroad (PRR) was an American railroad established in 1846 that served the northeast and midwest. For the first half of the 20th century, the PRR was the largest U.S. railroad by traffic and revenue. At one time, the PRR was the largest publicly traded corporation in the world, with a budget larger than that of the U.S. government.
Like many other railroads, the PRR suffered a decline in the decades following WWII and eventually merged with rival New York Central in 1968 to form the Penn Central. However, the merger did not go well and within two years the Penn Central filed for bankruptcy. In 1976, viable parts of the company were transferred to Conrail.
Features:
DDS textures
Aging with dirt and rust.
Multi-unit PA/PB units.
Reversed version of PA unit.
Engines as rail assets.
Technical Details:
Max Speed: 116 mph (188 kph)
Power: 2,253 horsepower (1,680 kW)
Tractive Effort: 51,032 lbf (227 kN)
Availability: 1946-1953
Cost: (determined by game)
Notes:
This is a repaint of Urban Games Alco PA/PB units.
This mod adds new vehicles to the game without altering anything currently existing in the game.
Custom colors and logos have intentionally been disabled.
Though I aim to be as accurate as possible, some inaccuracies may exist.
Dislaimer:
Author(s) take no responsibility for your hardware or software. Use this mod at your own risk.