Hong Kong Station Name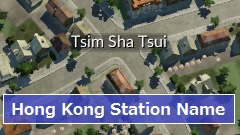 Description:
Town's naming will use the Hong Kong MTR station's name as well as the street's name.
And all the citizen's name is now more even looks like a Hong Kong citizen.
Traditional Chinese town, street and citizen name set is also added in this release.
Please follow the instruction below to enable multibyte character support to display the names in Traditional Chinese.
– Locate the game installation directory, which is something like C:Program FilesSteamsteamappscommonTransport Fever.
– Backup the following files inside /res/fonts/ directory
• Lato-Bold.ttf
• Lato-Regular.ttf
– Copy either ipaexg.ttf or ipaexm.ttf from the /res/fonts/ipa/ directory.
– Paste and rename the files named Lato-Bold.ttf and Lato-Regular.ttf