Choose your character+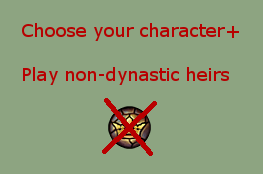 Description:
Choose your character+
PLAY AS NON-DYNASTIC HEIRS
Or switch to any other character – now or on death.
With this mod you can switch to any living playable person (even landless, because you will receive a titular duchy). It also switches you to non-dynastc heir on succession (if you have any and he isnt unplayable).
Added game rules:
-Switch on death: The "play as another character after death" option control.
-Switch character: If you consider switching character a cheat, you can set this to disallowed.
Unfortunately, in most of new cases (not-dynastic heir or switching to another character after death) the succession screen is disabled.
I recommend you to reset your switch to another character on death option from time to time in multiplayer because it could get buggy if players are over-using it.It appears that you cant click 'play' button when you load a save as landless, but you can load a game as another character (and then switch to your previous one) or by clicking 'continue'.I made the mod because infinity is not working for me and I also wanted to switch characters in multiplayer.If you have any suggestions, feel free to comment Im inviting you to discord Server dedicated to my mods https://discord.gg/rtF9msuAlternative download site: https://forum.paradoxplaza.com/forum/index.php?threads/choose-your-character.1147757/
Download
Revisions:
Old revisions of this mod are available below. Click the link to download.