Environment Skin: Sid Meier's Civilization V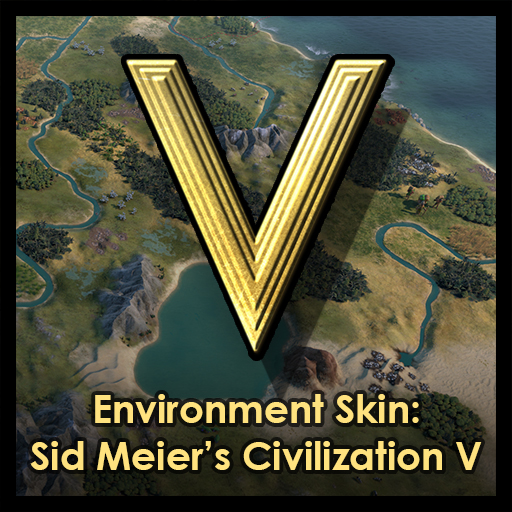 Description:
This example mod changes the visuals of the game to better match the colors and tones of it's predecessor, Civ V. Changes include multiple terrain texture modifications with more Civ V like details, a color key that puts the buildings and units into a more neutral palette, along with a number of other small changes. Compatible with every release, up to and including Gathering Storm. I was challenged by the team to create an expansive mod using Mod Buddy, and this was the end result. It's an example of how much you can change the visuals and I hope it provides inspiration to try your own modifications.
UPDATE:
Added new screenshot to better reflect recent updates. Screenshots include a few game play shots with FOW.
New Visuals:
Colorkey added to noon lighting:
* Reduces saturation of building and units.
* Adjusted the image curves to create a bit more contrast and match the overall look of Civilization V.
Modified all terrain textures including height, base color, and gloss maps:
* Grassland
* Plains
* Tundra Light
* Tundra Heavy
* Snow
* Beach
* Ocean Floor
* Ice Caps
* Marsh
Modified Water Density, Water Scatter to match Civ V palette:
* Deep Ocean
* Shallow Ocean
* River and River Source
* Lakes
* Noise scale increases on Ocean (Deep and Shallow) as well as Lakes
Clutter and Decal Changes
* Ice Chunk texture reworks for Base Color and Normal maps
* Ocean Floor Decals have a Base Color map change to match lighter sand of Civ V
* Desert Decal Base Color map
* Marsh Decals
* Cliff Decals
* Snow Decals
Forests
* New geometry and ArtDef settings for all the forests, including lower end systems
* Deciduous trees added to regular forests with new textures and geometry
* Alpha maps added to all trees
* Snow pine texture added
* Jungles utilize new decals and textures for existing geometry
* Jungles and Forests have new scattering to appear more dense
FOW textures updated to reflect all the new terrain textures
* Grasslands
* Plains
* Desert
* Tundra Light
* Tundra Heavy
* Snow
* Ice
Grassland and Plains have a new rocky texture to help the hills stand out.
Download
Revisions:
Old revisions of this mod are available below. Click the link to download.