Ultimate Galactic Conquest Custom Edition (UGC CE) – No Consortium and More !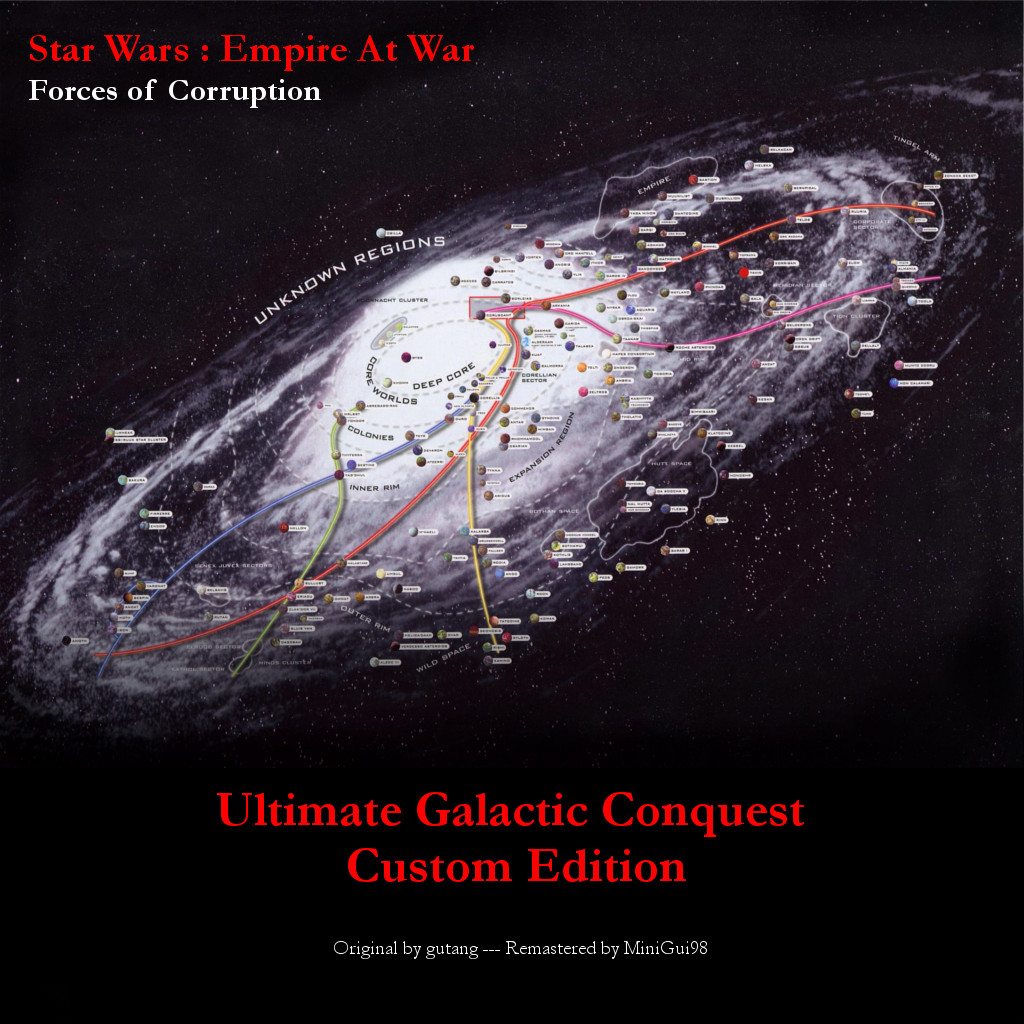 Description:
UPVOTE IF YOU LIKE THE MOD, THANK YOU ! 🙂
Discord server : https://discord.gg/tGeBbNn
Moddb page : http://www.moddb.com/mods/ultimate-galactic-conquest-custom-edition-ugc-ce
NEW UPDATE AVAILABLE, 25.12.2019 !
http://steamcommunity.com/sharedfiles/filedetails/changelog/1156943126
MULTIPLAYER IS HERE !
NEW UI COLOUR IS HERE !
PLAYABLE PIRATES ARE HERE !
NEW TEXTURES ARE HERE !
This is a custom version of the Ultimate Galactic Conquest mod made by Gutang many years ago.
Original mod : http://www.moddb.com/mods/ultimate-galactic-conquest-v1
It fixes some bugs and add a few things :
142 planets in total are available in various Galactic Conquest sets.
GC Maps no longer have the Consortium in them, unless you're playing them !
But hey, want to play the original GC maps anyway ? No problem, they're here as well !
Consortium has no AI, starts with 1 unit on Hypori. (Except on the original maps).
Added new soundtracks from other Star Wars movies / series and ONLY from Star Wars.
4 hours and a half of custom music tracks.
Contain maps I've done ! 😀 I might change few things in the mod package in future updates.
Contain maps RadicalEdward2 has done specially for the mod !
New loading screen and menu overlay, as well as a new menu space battle.
Unit cap has been increased.
Ships are rescaled and a bit modified.
Added garrison for certain rebel ships.
Few balance adjustements.
Some locked base game units have been unlocked.
Improved AI. All factions have working AI in GC, depending on which GC set you're playing.
Multiplayer GC !
New UI colour, most of the things are blue again !
A few graphical and visual enhancements !
The Black Sun Pirates are now playable. It's ♥♥♥♥♥♥ but fun. (It's mostly fixed now.)
Made with love for this awesome game !
Please note that this mod is optimized for 1080p or superior resolutions. It is also recommended to run the game in maximum graphics and with shaders and water to the maximum detail level.
I strongly recommend to play the mod's GCs on hard difficulty, as I tweaked this difficulty only.Other difficulties AI might have erratic behaviour. Skirmish difficulty is mostly untouched.
Please, let me know if there's any bug or if you have any request.
If gutang want this mod removed, so be it.
Do not re-upload without authorization.
As most of the UGC V1.0 files present in my mod are modified by myself, I do not authorize you to use them to plug UGC into your mod, use the classic UGC V1.0 (Available on Moddb) instead. PM me if you want to use UGC CE content for your mod. As I don't accept random friend requests on Steam, the best way to do it is via joining the discord server of the mod.
Modpaths if you have trouble launching :

Modpath=……workshopcontent324701156943126

STEAMMOD=1156943126
TO DO LIST :
New locations are planned.
General art improvement :

Custom movies.
More music.
New lines.
New icons.
Note that some of these feature may take some time to get implemented.
THANKS SECTION :
gutang for the original mod.
Argon, legoagent2, Setlec, for patiently testing the new builds.
Geir389 for the new AI coding and testing.
RadicalEdward2 for the fixed maps / new maps, and most of the data that comes with.
The EaW modding community for their awesome help!
All the people who gave feedback and helped improving the mod.
This mod includes some fair use content from moddb. Please read the changelogs if you wish to find the full credits and links.
Check out my other mod : SMM – Simple Multiplayer Mod !
http://steamcommunity.com/sharedfiles/filedetails/?id=1188993381
MODVER :
UGC_NoZC_MG98_V.SWS.25.12.19
Have a great time playing.
Discord server : https://discord.gg/tGeBbNn
Moddb page : http://www.moddb.com/mods/ultimate-galactic-conquest-custom-edition-ugc-ce
Download
Revisions:
Old revisions of this mod are available below. Click the link to download.