Welsh Eng. (CoH2) – Voice [Vanilla/WOTC]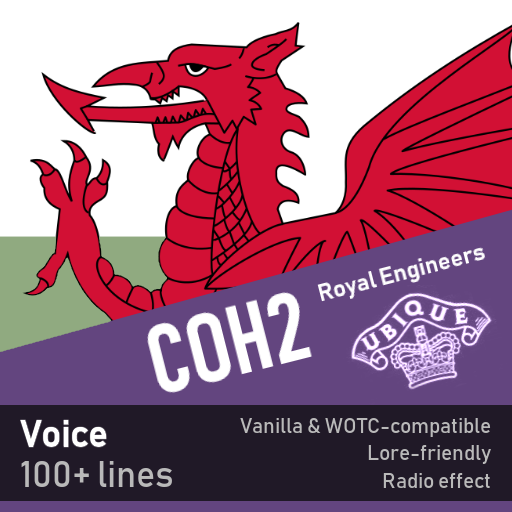 Description:
"Pretend they're bloody English."
Accent: South Wales-accented British English
Lines: 121 lines
Radio effect: Yes
XCOM2-lore friendly: Yes
The CoH2 Royal Engineers unit is given a character from the Valleys of South Wales. Wales is one of the four countries that make up the United Kingdom (the others being England, Scotland and Northern Ireland). The unit's lines make reference to the coal-mining history of South Wales[en.wikipedia.org], to rugby, to the Eisteddfod[en.wikipedia.org] and other prominent aspects of Welsh culture – and some of these lines are also found in this voice pack.
Compatibility and Restrictions
Gender: Male
Classes: XCOM2 soldiers
XCOM2 Lang.: English UK (United Kingdom, Ireland, Scotland, India)
Vanilla/WOTC: This voice pack is compatible with both Vanilla XCOM2 and WOTC.
(WOTC will incorrectly warn you otherwise. This voice pack supports WOTC-only cues.)
Voice Credits
Actor: Matthew Gravelle[en.wikipedia.org]
Sources: Company of Heroes 2 – The British Forces (Relic, 2015)[en.wikipedia.org]
Mod Credits
Contains code based on robojumper's voice script.
Feedback
Any feedback would be extremely welcome!
You might also be interested in my Cerys (Witcher 3) voice pack.