Tactical Legacy Weapon on Black market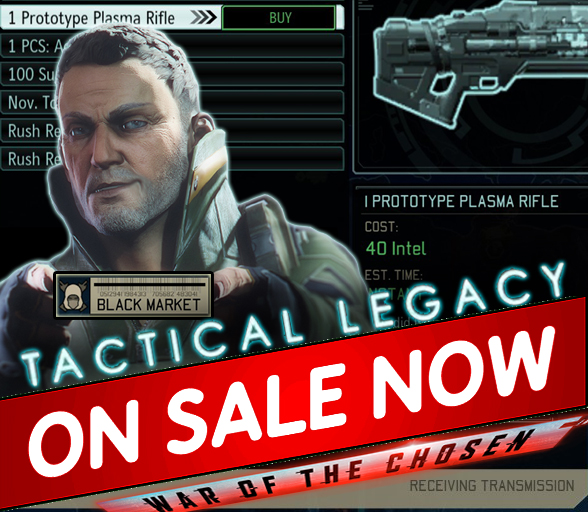 Description:
(USELESS) LORE QUOTES
"As far as I'm concerned, many people are simply treating my old story as a drunken B■■lsh■t, asking how XCOM could be armed with plasma or magnetic at that time….THIS IS WHY I did not tell the old story, because 'Blast from the Past' and 'Lazarus Project' actually happened!" "…Well….At least part of it. In fact, the equipment I was operating before I reconfigured XCOM sold the black market to save you. It was unavoidable for such a large-scale rescue operation because it required a lot of support." "So even on the black market – you'll find a "high-end weapon" that has been stolen from XCOM's research facilities in the past or built with the hands of some craftsmen. If you want, I will once again meet with a black market dealer to prove that I did NOT lie or drunken." – by CO. John "Central" Bradford
In 'Legacy ops' of the Tactical Legacy Pack you will see some canon-errors. Specifically, the resistance of the central officer bradford hunt avatars. Armed with ultimate items like plasma. This mode partially resolves this inconsistency.- Save on intel and buy high-end weapons on the black market. Like the past XCOM, which could not set a mid- and long-term goal. This mode adds TLE Magnetic & Plasma weapons with low probability to the black market.
Although this may dramatically reduce the difficulty of the game, it will suit the taste of some players who value canon.