[WotC] Nordo's New Soldier Classes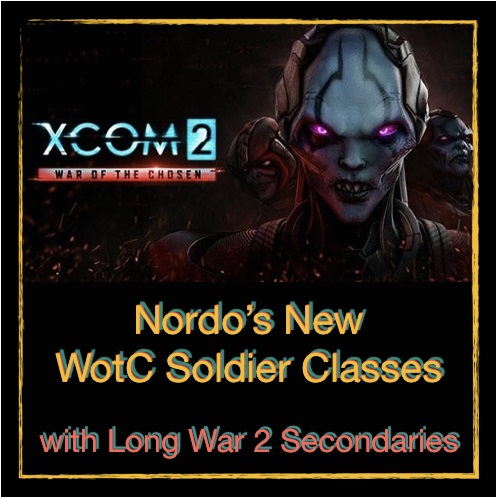 Description:
New Soldier Classes for Long War 2 Secondaries
The full class mod for WotC and LW2 Secondary Weapons is here!
This mod adds four new soldier classes to the base game, each of them uses secondary weapons from Long War 2:
Arc Thrower
Holo-Targeter
Sawed-Off Shotgun
Combat Knife
LW Gauntlet
Their abilities are a mix of vanilla/WotC, LW and brand new abilities.
This mod provides additionally content only. Furthermore it is designed to work with the WotC base game classes, so all classes should be balanced. You need "LW2 Secondary Weapons" and the Community Highlander for WotC to play with this mod.
The goal is to extend the game content with lot's of new stuff that fits to what is already there: Soldier Classes, weapons, abilities, Training Center, Guerilla Tactics.
There are too many abilities to write them down here. I gave you a short class description in the screenshots. Now it's up to you to discover all the mod content. I hope you enjoy it!
Edit: Now you can find a list of all new abilities on the discussion page.
––––––––––––––––––––––––––––––––––––––––––––––––––––––––––––––––––––––––––––––
BETA status
I gave the mod a BETA label not to say it doesn't work but to mention that I've tested all the abilities during tactical battles but I haven't made a play through yet with these classes. So if you find any issues, problems, bad effects, missing icons or content and so on, WRITE A COMMENT.
You should expect a few updates that solve possible issues and improve balance in the weeks after release. None of them will break the game in any way when you use this mod. All changes can be seen here.
Adjust configuration
Almost every ability parameter can be changed via the settings.ini file. The ability tag script should usually automatically update your changes into the localisation. But be sure to make a copy of you changes or you may lose them when the mod is updated.
Mod-ID: 1590893005
By default, if you use the LW2 Secondary mod all vanilla classes will be able to use those weapons. I recommend to disable this by deleting the specific lines in the config files of this mod. The vanilla classes are not made to use them, but with this mod you have other classes that are.
Go to worskshop/content/268500/1140434643/Config/XComClassData.ini and delete all lines there. Don't delete the file itself or the game may reload it.
––––––––––––––––––––––––––––––––––––––––––––––––––––––––––––––––––––––––––––––
Compatibility
There should be very few possible issues with other mods as long as they don't conflict with LW2 Secondaries or remove needed game content like certain abilities. However, class overhauls should be compatible if they allow new soldier classes.
I recommend using my older class mod, the Front Soldier Class, in combination to this pack.
Localization
This mod was created in German and translated into English. I am always happy when people help to add new translations or improve existing ones. You can open a new topic and leave a comment. It would be nice if someone could look at the English texts. I'm good in translating English→German, but others might find better solutions in this direction.
Credits
I'm really thankful for those people who spend time creating fantastic mods for XCOM, one of the best PC strategy games ever in my eyes. Especially I want to say thanks to
Pavonis Interactive (Long War 2)
shiremct and Musashi (WOTC LW2 Secondary Weapons)
If you like this mod, feel free to rate it up and to add it to your favourites. This is not for me but helps other players to find this mod. Cheers!
Download
Revisions:
Old revisions of this mod are available below. Click the link to download.