[WOTC] Bayonets by Iridar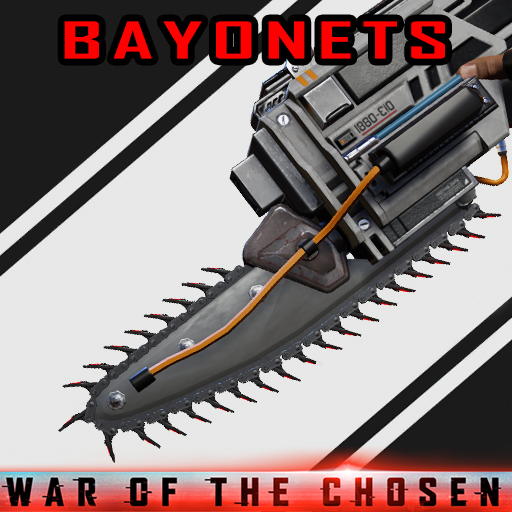 Description:
FEATURES
This mod adds two new weapon attachments, Bayonet and Powered Bayonet. Their damage and appearance will change based on the technological tier of the weapon they are attached to. Bayonet attacks typically deal slightly less base damage than dedicated melee weapons, but they benefit from certain mechanics that increase their combat potency.
Classic bayonets deal the least amount of damage up front, but using them within 1 tile range costs only one non-turn-ending action, and they also gain bonus damage based on travel distance to the target, similar to LW2 Shinobis, only this time there's a limit on the amount of bonus damage.
Powered Bayonets shred armor and make enemies bleed, and deal slightly more upfront damage – only slightly less than swords.
Besides bayonets, this mod makes Psi Amps provide a Psi Strike ability. It allows to project a psi bayonet to deliver guaranteed melee hits that deal moderate damage with a bonus against psionic units. Psi Strike's damage doesn't depend on soldier's stats or equipped weapons.
HOW TO ACQUIRE BAYONETS
Both Bayonet types can drop from enemies as loot. Additionally you can build Classic Bayonets in Engineering after ADVENT Trooper Autopsy, and Power Bayonets after Stun Lancer Autopsy.
COMPATIBILITY WITH MODS
Sort of incompatible with [WOTC] Standard Melee, using it will result in multiple Bayonet Strike abilities showing up at the same time, and you may see XCOM and ADVENT use (Psi) Bayonet Bladestorm even without the actual Bladestorm ability.This happens because Standard Melee removes all conditions from all melee abilities.
COMPATIBILITY WITH MELEE PERKS
All of these abilities are set up to properly interact with vanilla Rangers' and LW2 Shinobis' melee perks, except for Combatives.
This is accomplished by adding additional abilities to bayonets that will activate only if the soldier has one of these melee perks. Effects of these additional abilities generally mirror the effects of class perks, but they have to be configured separately.
Bayonet Bladestorm attacks will happen only if the soldier is not equipped with a proper melee weapon.
COMPATIBILITY WITH WEAPONS
Classic Bayonets have more compatible dimensions, so I have set them up for Assault Rifles, Bullpups, Shotguns, SMGs, Vektor Rifles and Beowulf Rifles. They carry no penalties.
Powered Bayonets are available at beam tier for all of the mentioned weapons, but only Assault Rifles and Beowulf Rifles gain them at conventional and magnetic tiers.
Bayonets can also be added to any weapon, check the XComBayonet.ini for examples. You can even add them to pistols, but Bayonet Stab abilities most likely will not work properly when attached to weapons in secondary inventory slot.
All bayonets are mutually exclusive with Repeaters / Suppressors and Underbarrel Attachments.
Compatible with lasguns from The Lasgun – WotC Edition through [WOTC] Lasgun Bayonets by Kartoffel.
CONFIGURATION
This is mode is highly configurable by design. Everyone plays XCOM 2 differently. Please try to configure the mod for yourself before you bring balancing concerns to me.
CREDITS
This mod is produced by Iridar's Patreon Project[patreon.com]. Become a patron to vote for the next mod and participate in the development process, gain access to work-in-progress content, including early mod builds.
Huge thanks to my wonderful patrons for helping me produce this mod!
Sophia Orr
DonDon~Chan
Schepeppa
Arkhangel
Thanks to E3245 for helping with textures.
Note that chainsaw bayonets are based on the Ripper Knife model from PlanetSide 2, created and owned by Sony Online Entertainment and Daybreak Games.
Classic Bayonet for Mag Tier is based on the Vibroblade model by Long War Studios / Pavonis Interactive.
Download
Revisions:
Old revisions of this mod are available below. Click the link to download.