XOF in War of the Chosen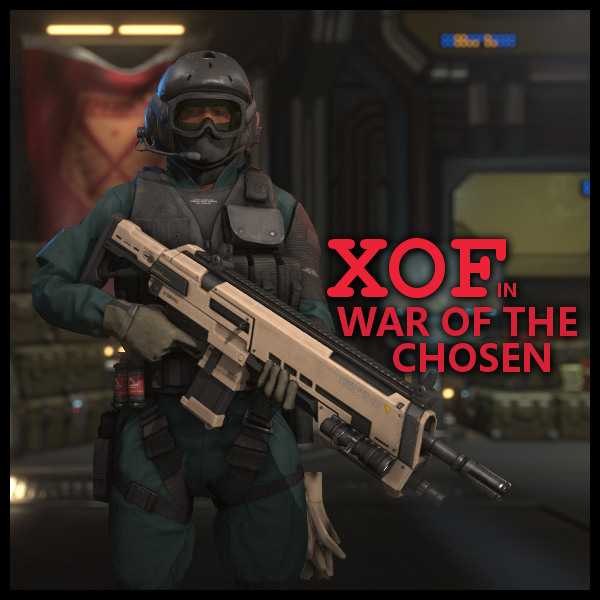 Description:
This mod is for War of the Chosen and is not compatible with vanilla XCOM 2. Download
XOF in XCOM
for a version compatible with the base game.
What is this mod?
The War of the Chosen version of the mod XOF in XCOM featuring new textures and materials by excellent ∑3245. An empty deco options mod is recommended.
Features:
Five torso options
Five arm options
Two leg options
Six helmet options

Variants for use with balaclavas or masks from other mods / DLC
Recolorable XOF helmets

A balaclava available as helmet or upper or lower face prop
Nine helmet addons available via as both upper and lower face props
An XOF patch for use with pauldron arms
XOF BDUs than can be recolored
XOF helmets with tape that can be recolored
Known issues:
Tiny gaps appear in between arms and torsos; it is more noticable with females
XOF patch will clip through arms when the character undergoes firing animations
Mixing with vanilla options will result in noticable gaps
Mod Directory:
…steamappsworkshopcontent2685001294040709
Permissions:
People are free to use as they see fit parts of the mod that I worked, I only ask that proper credit be given.
Credits:
Kojima Productions / Konami – MGSV:TPP & MGSV:GZ
Firaxis – XCOM 2
∑3245 – Materials and Textures
ObelixDk & sacred soul69 – whose sneaking suit port served as essential references
The creators of FtexTool, GzsTool, and FMDL Studio
Spart117MC – Porting and rigging