(WOTC) Adam Jensen Arm Prosthetics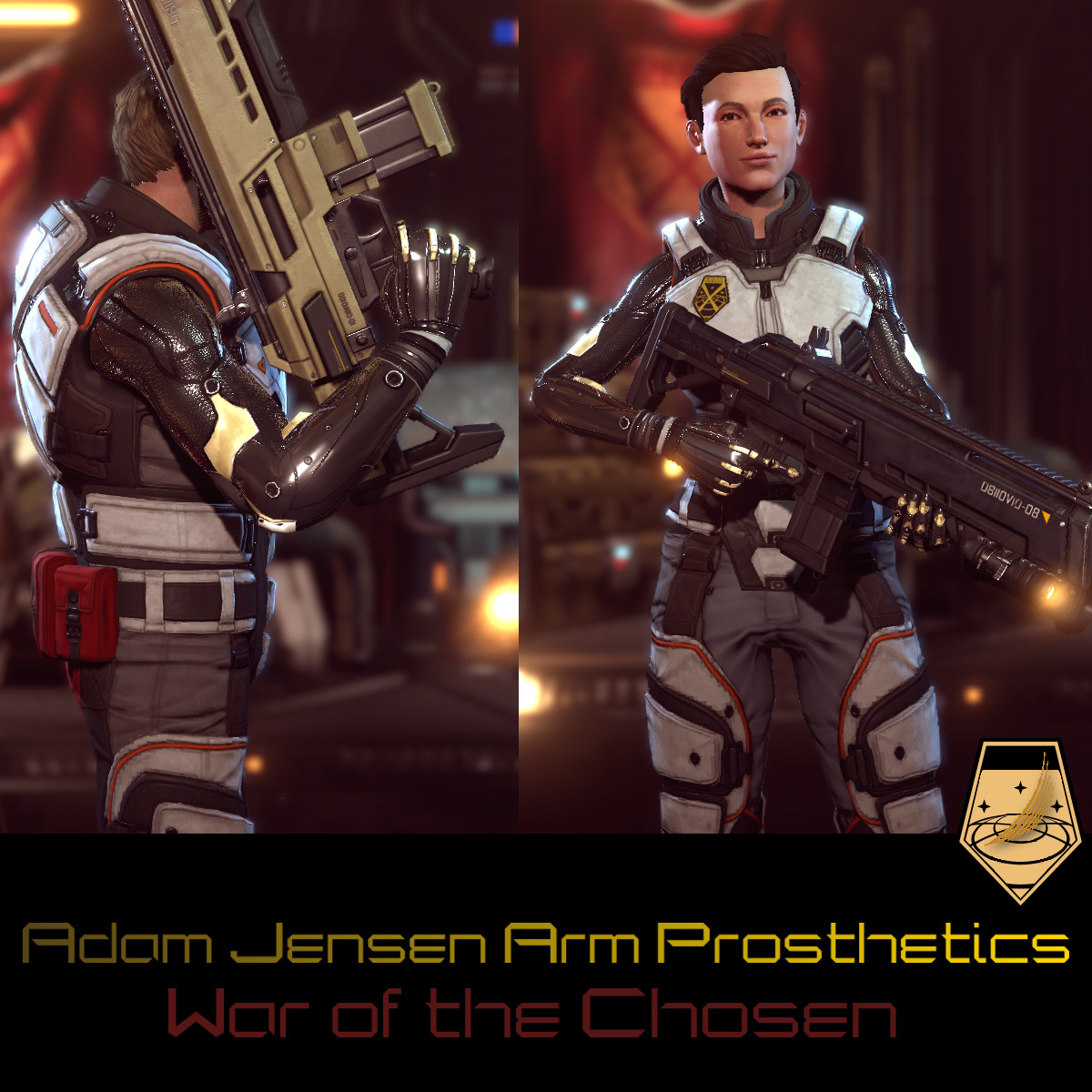 Description:
War of the Chosen version of my mod, Adam Jensen Arm Prosthetics.
Link to the Vanilla/LW Version here:
http://steamcommunity.com/sharedfiles/filedetails/?id=1190829763
====
A new prosthetic arm, purely cosmetic, for both male and female soldiers!
Created with Blender and GIMP, based off of Adam Jensen's arms from Deus Ex: Human Revolution (and its sequel, Mankind Divided).
Simply go into Soldier Customization->Body and you'll find it in the Left and Right Arm categories!
NOTE that I've heard there's weirdness involved with the Resistance Warrior set (not the recently released Legacy DLC, but the pre-order kevlar set). You may want to avoid that when using this mod.
If you want more, please let me know, and what type of gear you want!
Variations of existing? New stuff entirely? Make sure it doesn't already exist, first! 😉
====
Contents (fit both male+female, as well as the hero classes – they're cosmetic props usable with any tier):
-Jensen Prosthetic
=Left Arm
=Right Arm
=Ten Kevlar-Armored Variants
=Two Warden (tier 3) Armored Variants
+Buff version of Female Prosthetic (female only)
====
Recommended other mods:
Jensen's Glasses by Old Spice Odor Blocker (works with WOTC – tested myself. Ignore the error):
http://steamcommunity.com/sharedfiles/filedetails/?id=723730813&searchtext=Jensen
Adam Jensen Voicepack, by mosa8013 (also works with WOTC):
http://steamcommunity.com/sharedfiles/filedetails/?id=680477762&searchtext=Jensen
====
Versions:
v1.2
=Warden Shipment!
=Adds Warden (tier 3, powered armor) variants of the Prosthetics – there are two.
=Additionally adds a buff-version of the Female prosthetic (to females only).
—
v1.1
=Kevlar Shipment!
=Adds Kevlar-armored variants of the Jensen Prosthetic – 10 of 'em, to be exact! (A, B, C1, C2, D1, D2, E1, E2, F1, and F2)
—
v1.0
=Release Build! Includes Left and Right Arm for Jensen Prosthetic.
====
(potentially) FAQ
Q. "The arm clips a bit with some torso(s)!
A. The arm was built based on the Kevlar-tier Anarchy's Children "Bare Arm" props, which themselves may clip with some torsos (even kevlar tier vanilla stuff!).
Due to mods and even different armor tiers, no single arm prop will fit everything, even with just official content installed: I cannot make it fit everything perfectly.
==
Q. "Why are female Warden arms differently sized/why is there a buff version of the female prosthetic?"
A. Multiple reasons!
-Warden-tier vanilla arms and torsos are differently sectioned (torsos in Kevlar+Plated have the shoulders, but in Warden the arms have the shoulders)
-The female version of Warden-tier arms have the elbow differently positioned (slightly higher up)
-The female version of Warden-tier arms are more buff (I guess Warden armor is good for your arm workout)
I made the buff version of the female prosthetic because when I match the regular female prosthetic to the position and dimensions of the female Warden arms, it made for an easy opportunity to just make an unarmored version of the buff arms, too.
==
Q. "There's too many options!"
A. You can comment out options you don't think you want to use.
Go to …steamappsworkshopcontent2685001190827510Config, and open XComContent.ini (Notepad will do).
The lines are commented to mark each arm's section. Simply add a semicolon to the beginning of a line to comment it out.
(there are two lines per "class" – XCOM Soldier, Reaper, Skirmisher, and Templar, with each line being for the male then female
To completely prevent one arm variant from showing up, simply comment out all 8 lines in a category.)
—
As a visual Cue
This Line and the line above are not Commented Out
;But this line is
—
Please note two things if you do this:
#1. If the mod updates, XComContent.ini will lose any changes you made. You can simply go back and re-comment out whatever you didn't want.
#2. You can do this for other mods that add cosmetic props, too. May help reduce clutter in your menus, if that bothers ya.
====
Known Issues
-Nothing major reported!
Incompatibilities
-None known yet. Should be none, since this is a purely cosmetic mod.
====
Credits:
-Font for image created from the following website:
https://fontmeme.com/deus-ex-font/
(settings – style: Gradient Gold H, color: 57445)
-Various texture maps used as brushes from Textures.com (only used free textures)
https://www.textures.com/download/grungemaps0135/45588
-Normal Map Online
http://cpetry.github.io/NormalMap-Online/
====
Other Stuff:
You may utilize this mod and assets from this mod to create other mods, IF YOU GIVE ME CREDIT. Link back here (or to another site where I am the person who uploaded the mod), please, as well!
You do NOT need permission from me to create patches for this mod (for overhauls, etc.). Go nuts!
But still, give me credit for the initial mod. :p
As of now, I will be the only person to upload this mod, and it will be available on the Steam Workshop. Please do not download from other sources, as they're not from me, unless it's part of a modpack!
I may build upon this mod. I spent a long time on it, and I have ideas for additional goodies – guess it depends on response and how I feel about it. :p
Like my work? Feel free to donate![paypal.me]
Up to you, of course. The mod's free! 🙂
Thank you for your time – I praise the Lord Jesus for the opportunity to do this!
Colossians 3:23