[WOTC] Call of Duty: Black Ops III : E.W.R.-115 'Reaper' Squadmate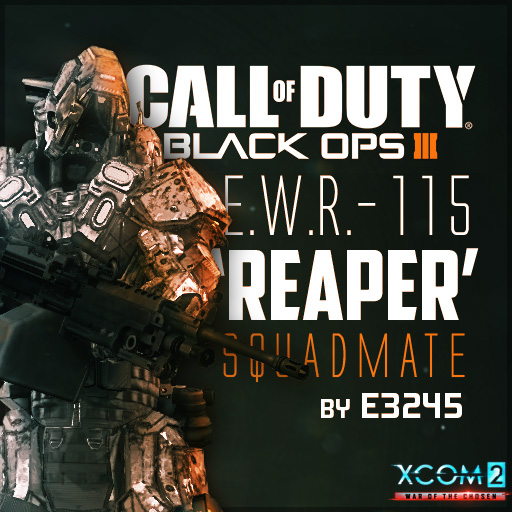 Description:
ALLIES UNKNOWN IS NOT REQUIRED!
HOW TO USE
Go to the character pool
Make a new character.
Here comes the tricky part. Go to the Class menu, and pick E.W.R – Formatted.
Congrats! That Reaper/EWR will appear whenever!
Thank you for choosing this fine Coalescence product. This mod adds the specialist robot, Experimental War Robot 115, callsign 'Reaper', from Call of Duty: Black Ops III. Allies Unknown is not required; there is a Proving Grounds project that lets you build an E.W.R.
If anyone wants to help port other stuff, or accelerate the rate that this mod gets more content, feel free to get in touch with me. I really just need more skinners/riggers that are able to rig uniforms to the XCOM 2 bones.
If you have issues with this mod or spotted a bug, please report it in the Bug Report Thread. If you want to provide feedback, whether its good or bad, then post in the General Feedback Thread.
If you are thinking of downvoting this mod, please provide feedback first, so I know what I should improve on/did wrong.
I don't ask for donations. Period.
FEATURES
You can recruit or build your own Experimental War Robot.
Does not require Alien Hunters!
5 different heads to choose from!
Can bond with other units!
AddedPartNames support.
Workshop Icon by .vhs!
KNOWN ISSUES
AddedPartNames is optional.
It might be unbalanced. Check this thread for the Reaper's stats. You can also suggest stat tweaks in the same thread.
The Reaper cannot interact with special GP/DLC objects such as the Blacksite Vial and the Statis Tube since that locks up the Matinee for some reason.
Sometimes the jets from the jetpack fire at the wrong spot or even rotate the wrong way.
CREDITS
Tools:
DTZxPorter for creating Wraith Archon – A Call of Duty Model Exporter.
Model/Textures:
Activision/Treyarch for publishing/developing Call of Duty: Black Ops III respectively.
Coding:
RealityMachina for letting me use his code from Allies Unknown Species(?) Mod: HK-Series Droids.
Rigging/Assembly:
E3245 for porting, rigging, texturing, and assembling the Reaper robot.
Workshop Icon:
.vhs for the lovely icon.
DISCLAIMER: ALL CONTENT/INTELLECTUAL PROPERTY BELONGS TO THEIR ORIGINAL AUTHOR(S)/OWNER(S). ALL RIGHTS RESERVED.
LOG
Release ver: 1.002:
Release ver: 1.001:
Recompiled the shader cache for this mod.
Release ver: 1.000:
Initial release of this mod.