[WotC] MGSV: Jungle Fatigues (MGS3)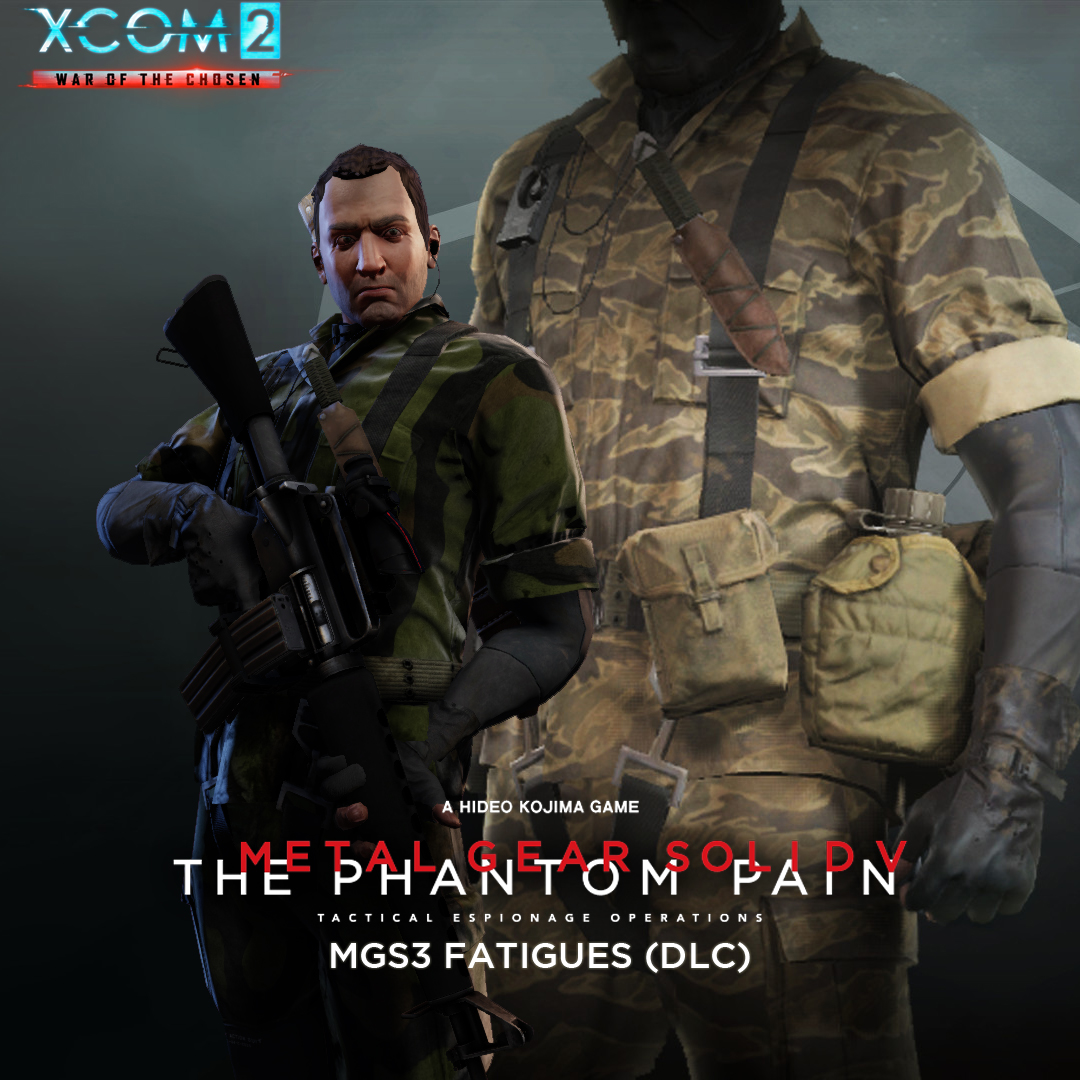 Description:
War of the Chosen version!
This mod adds the jungle fatigues from Metal Gear Solid V: The Phantom Pain as a new uniform for males. This is for War of the Chosen.
If anyone wants to help port the hero or any other uniforms, or accelerate the rate that we get more content, feel free to get in touch with me. I really just need more skinners/riggers that are able to rig uniforms to XCOM 2.
If you have issues with this mod or spotted a bug, please report it in the Bug Report Thread. If you want to provide feedback, whether its good or bad, then post in the General Feedback Thread.
If you are thinking of downvoting this mod, please provide feedback first, so I know what I should improve on/did wrong.
I don't ask for donations. Period.
FEATURES
Tintable jungle fatigues: Apply colors or camos as you see fit!
Faction Heroes (Skirmishers, Reapers, and Templars) can equip the Fatigues as well!
KNOWN ISSUES
No female version.
Textures might need some more work.
TODO
Fix some bugs, if any.
Port more helmets and uniforms.
Static version if enough people request it.
CREDITS
Model/Textures:
Konami/Kojipro for publishing/developing Metal Gear Solid V respectively.
E3245 for porting and creating additonal textures for the uniform.
Spart117MC for rigging the female version of the uniform.
DISCLAIMER: ALL CONTENT BELONGS TO THEIR ORIGINAL AUTHOR(S). ALL RIGHTS RESERVED.
LOG
Release Ver: 2.000:
-FEMALE VERSION!
-Added support for Added Part Names
-Adjusted the textures and materials for the fatigues
Release Ver: 1.000:
-Fixed a bug where the legs don't show up on soldier's Plated Armor.
Release Ver: 1.000:
-Initial release.