[WOTC] LW2 Primary Secondaries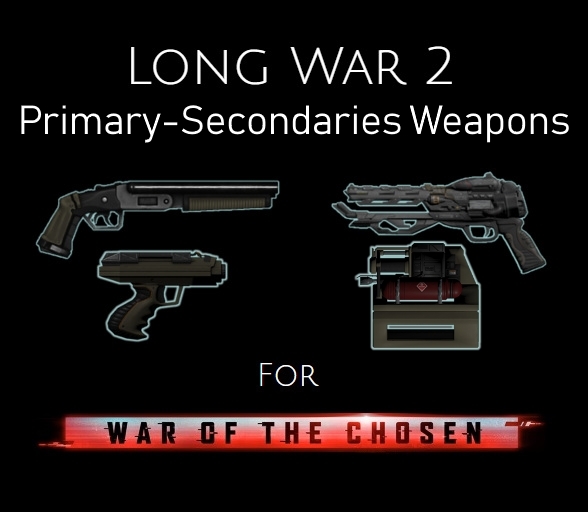 Description:
Long War 2 Primary Secondaries for WOTC
Brings Long War 2's new secondary weapons out for use with custom soldier classes in WOTC Includes Primary weapons.
Features:Why do we need this mod?
As Musashi's Primary Secondaries now support dedcated animations through a full update, existing LW secondary weapons are no longer eligible for Primary Secondaries.
Simply put, this mode allows your soldiers to use Arcthrower, Sawed off shotgun, and Holotargeter as their primary weapon.
Primary Long War 2's secondary weapons.
Using Long War 2's secondary weapon as a primary weapon has its advantages.By default, all Primary Long War 2 secondary weapons have one weapon attachment slot.
● Arcthrower: Shorten
Detonate an environmental explosive, causing it to deal double damage within twice its normal radius.
● Holotargeter: Holo-Analysis
Makes the enemy impaired by aiming at the enemy Holo-Targeter.
● Sawed off shotgun: (Reloadable)
Primary Sawed off shotgun has ample ammunition, so it can be reloaded at any time.
● Gauntlet: Remote Rocket
All Primary Gauntlet are capable of launching guided rockets, which will allow the soldier to operate the gauntlet regardless of Los.
Known Issues
● Combat Knife did not need to change. No complex change codes are applied, and it works well without this mod.
● Gauntlet is a bit complicated. This is not a normal Secondary Weapon.
However, I added a primary Gauntlet.
Special thanks
Musashi: This mode is closer to the add-ons of Primary Secondaries. 🙂
Claus: The animation of the primary gauntlet was used by Advent Custodians.