[WOTC] – Vektor Crossbows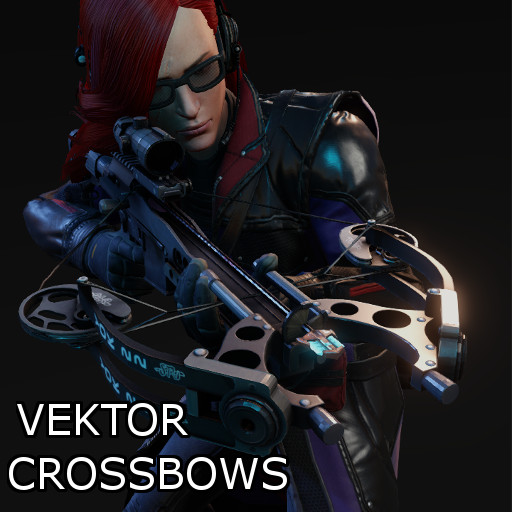 Description:
[WOTC] Vektor Crossbows
——-
Please Read Desc for more info!
NOT COMPATIBLE WITH VANILLA XCOM 2 (No I will not port to Vanilla, sorry)
——–
DESCRIPTION
———————————
This was a commission by Antzeg, who wanted some crossbows as a cosmetic alternative to the reaper's Vektor Rifle.
This mod adds a crossbow to all 3 tiers, each tier has a unique bolt (they're small and hard to see) with T2 and T3 boltheads evoking the arc and fusion blades. They are mechanical duplicates of the vanilla vektor rifle, it's a purely cosmetic change.
Hope you enjoy! Remember ratings are always super helpful, and comments help me know I'm making content y'all enjoy!
FAQ:
Q) How do I change the stats on the weapons?
No bueno, I'm afraid. My current vektor template isn't set up for config edits.
Q) Why aren't the weapons showing up?
You've usually gotta start a new game or upgrade to a new tier for the weapons to populate in your armory.
Q) MAMA MIA THAT'S A SPICY FILE SIZE!
Yeah I know. The original model had 14 freakking textures and is fairly high poly and I only added to that, plus XCOM is actually quite bad at compressing textures. My apologies
Q) Can you port to Vanilla?
No, the process for doing so is really annoying and tedious and I do not intend to return to playing vanilla X2 or LW2 (not to mention the Vanilla SDK is super big)
Q) Can you do [Insert Request Here]?
Depends, but probably not, unless it's a small task of simply messing with some text files (even then, a maybe at best). I make my mods for my own personal enjoyment, so unless your idea is something that I'd actually enjoy that I just hadn't thought of, I'll prob not be too interested in doing it. $5 patrons get to suggest ideas for my regular polls tho, and I'm usually willing to consider paid commissions.
Feel free to ask any additional questions in the comments.
RELEASE NOTES
———————-
V1.00
Initial Release
CREDITS
—————-
+ Antzeg for commissioning me to do this.
+ OverEnglishMan. for getting me WOTC and allowing me to keep making cool mods. Check him out on youtube!
+ CreativeXenos (CX) team for inviting me in and helping give me advice and help in allowing my skills to grow and my work to improve!
SUPPORT ME
—————-
+ Ko-Fi (One time donations): Click Here![ko-fi.com]
+ Patreon: Click Here[www.patreon.com]
DISCLAIMER
——————-
Crossbows are sexy as hell don't @ me