Wood Elf Enchanted Arrow Expansion SFO submod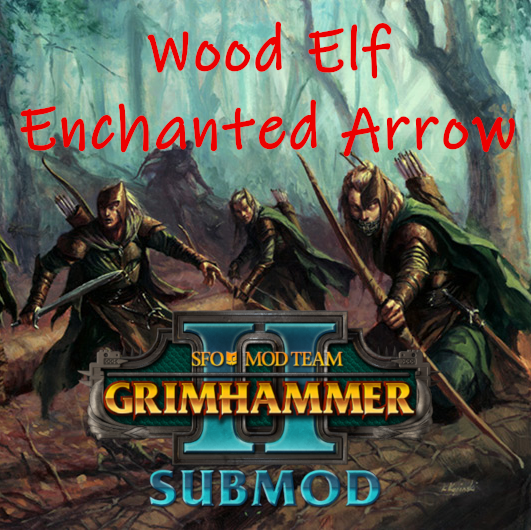 Description:
This is a submod for the SFO: Grimhammer II overhaul. It adds some of the missing enchanted arrow option for wood elf archers to the game. All of the arrow are based on the enchanted arrow loadout option in 8E Woodelf armybook.
For now, this mod add 5 new units to the original 4 wood elf factions that start in Athel Loren:
– Glade Guard (Swiftshiver Shards): Standard archer but with swiftshiver shards, therefore almost double their damage output. It is expensive just like all enchanted arrows. Works well against low armored troop.
– Deepwood Scouts (Hagbane Tips): Deepwood scouts with poison. An better alternative to glade guard since it come with fire while moving and slow-down effect of the poison. Also vanguard deployment and stalk is good at kiting at the start.
– Deepwood Scouts (Arcane Bodkins): Your answer to heavy armor besides starfire. Arance bodkins is THE anti-armor arrow, comes with armor sundering effect and high AP damage. Mix some of this unit in your army to improve the effectiveness of other non-AP unit.
– Glade Rider (Swiftshiver Shards): Your double shot missile cav, works just like glade guard with swiftshiver shards but much faster(yes 94 speed). For Orion this might be a better choice than standard glade guard or deepwood scouts since 2×60 > 80 and Orion has upkeep reduction for them. Shorter range though to align with CA's implementation of Swiftshiver Shards, use it like how you would use a shotgun on a bike.
– Glade Rider (Arcane Bodkins): Your AP missile cav. Works similar to the Deepwood scouts with arcane bodkins, but with pony. Your answers to basically every heavy cavs.
– Kerillian Warband: Taking inspiration of Vermintide game, this is the solution I came up with regarding trueflight arrow, since the vanilla homing mechanics is weird, unpredictable, and hard to understand. Instead I use high accuracy to mimic the homing effect. Just imagine 80 kerillian using her ult every 10 second or so and be quiet about it. High AP, high accuracy, long ranged.
This mod is capatible with, well, basically everything unless something drastically change the woodelf faction and building and stuffs. This mod is also works with our script lord Drunk Famingo's Table Top Caps mod. Basically glade rider and glade guard is the unlimited core choice, and the two deepwood scouts unit and the RoR are special choice worth 2 point (they're more expensive than chaos warrior, go figure).
CTT version of this mod (without the RoR) is available at here
Vanilla version of this mod is available at here
Credit:
Cataph and Mixu, as the inspiration for modding to me and many others, and helping with lots of the database stuff. I can't thank them enough.
Vandy and Drunk Famingo: Help me with the integration of TTC mods and answering questions.
Kaedrin: Teach me about model recoloring and stuff. Sorry that I failed to make the purple arrow trail.
Sebidee: For the comprehensive modding guide as my starting point.
Decomposed: for using his mod as a model to add RoR.
My cousin for the arcane bodkins icon artworks.
People in C&C modding den discord: for the helps, brainstorming, suggestion, and all the fun things.
I'm open to suggestion and balance changes.