[WOTC] Star Wars Galactic Republic Weaponry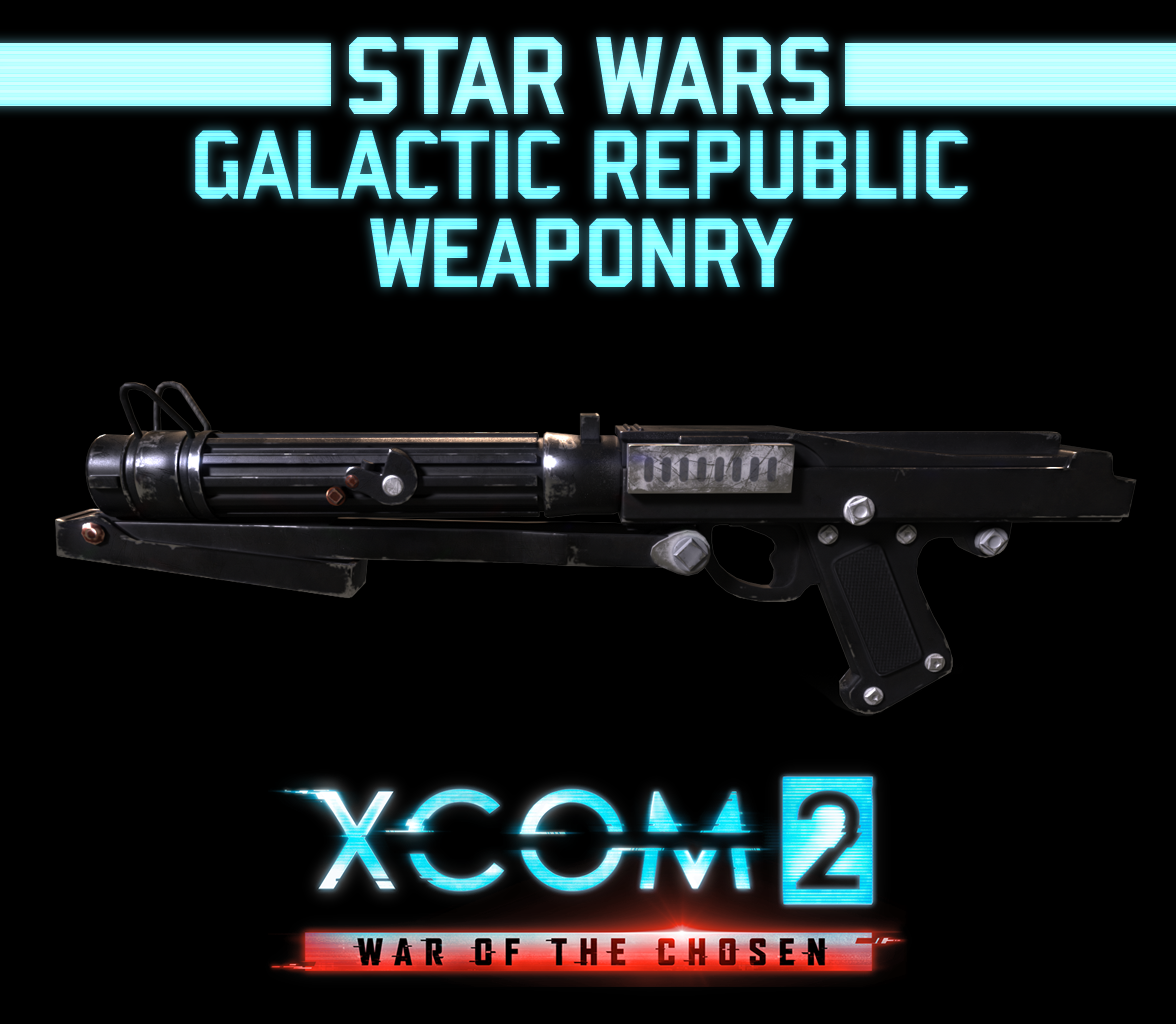 Description:
Weapon mod to compliment the armor I released last Thursday. Mostly tested by The Tommy Trials, should everything should work for the most part.
UPDATES:
Update 1.0
•Release edition contents:
-Blast Shield
-DC-15A
-DC-15S
-DC-15X
-DC17M and X/Sniper Attachment
-DC-17 Pistol
-DC-17 Akimbo Variant (Long boi)
-DP-23
-Westar M5
-Z6 Rotary Cannon
Update 1.? (Coming later)
•Bug fixes (If any)
•New weapons if requested
•Fix for loading on a pre-existing save
•DC-17AA/Anti-Armor (Maybe, if compatibility with Iridar's Underbarrel Attachment mod can be found)
•DC-15 Pistol
REOMMANDED MODS:
•[WOTC] Star Wars Galactic Republic Armory
DISCLAIMER:
The assets used in this mod are not free release, please ask before you try to use anything so I can see if I can let you use them. Nothing here is for commercial use, and will never accept any money based off this mod.
QUESTIONS AND ANSWERS:
Q: Can you add X, Y, and/or Z?
A: Possibly, the upcoming updates take priority, but I'm willing to hear out suggestions.
Q: Do I still need Dim's weapons?
A: You shouldn't. Feel free to keep using them if you want tinting though, I just wanted to update them for the PBR shader, and wanted them to always be black
Q: Long War version when?
A: Never. (Unless LWOTC comes to the Workshop)
Q: Vanilla version when?
A: Never.
Q: Can I use or borrow assets from your mod to create my own sub-mod.
A: Probably, depending on what models you want to use. Ask first, and I'll see.
Q: Bulpup/Vektor Rifle/Autopistol version when?
A: Maybe today, maybe tomorrow, maybe never. Depends on when I want to go back into the project to add those weapons variants.
CREDITS:
•Condensed Turtle Flesh – Rigging these suckers
•Archangel470 – DC-17M/X models
•Sergey Kolesnik – Westar M5 front section inspiration
•Free Radical – Sestar M5 back section mesh
•DICE – Models and textures
•Myself – Shield model, Westar M5 modeling, textures, n all other stuff