POTATO PACK 3: Characters & Co-op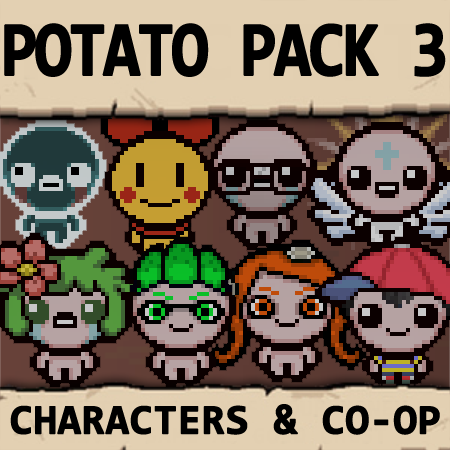 Description:
A collection of the Character and True Co-op related mods that I've made. (including some items)
The pack includes:
AIsaac,
True Co-op Treasure Rooms,
True Co-op Boss Items,
Soul/Forgotten Co-op,
Inkling,
Octoling,
Remiel,
Moth,
Gaia (Book of Genesis),
Ness (Baseball Bat),
Caasi (Negative Heart)
& Card Collector (Card Printer).
You can adjust the settings of AIsaac and the True Co-op Item mods by using Piber20's Mod Config Menu.
Using both this and the individual mods at the same time can cause issues so please unsubscribe from them if you subscribe to this.
I strongly recommend getting the True Co-op mod.
Gaia design and sprites by IgelFullmetal, Moth design and sprites by pkVortex.
Also check out POTATO PACK 1, POTATO PACK 2 & POTATO PACK 4.
Download
Revisions:
Old revisions of this mod are available below. Click the link to download.