AHarderWar Advanced Alien Missions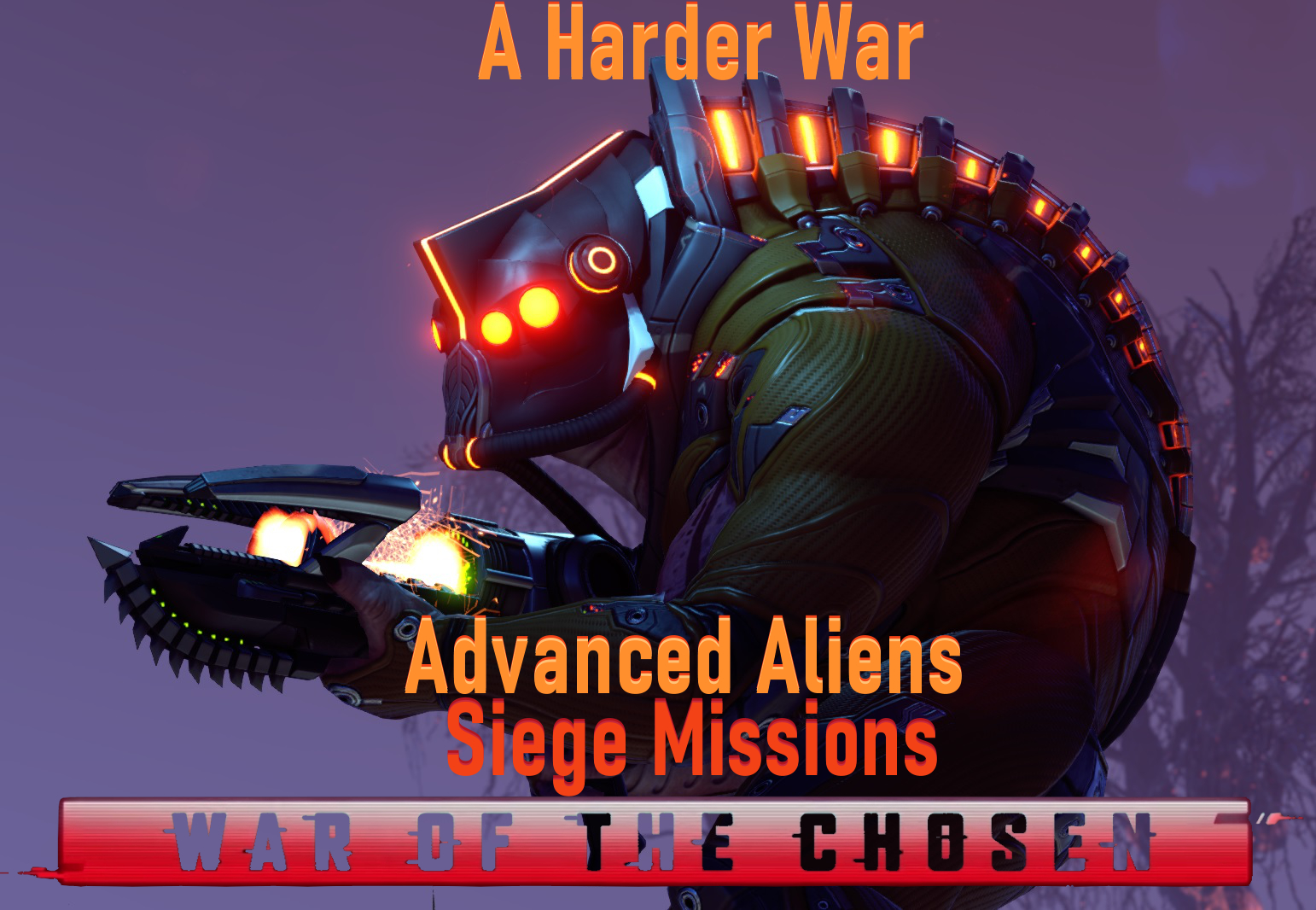 Description:
A Harder War: Advanced Aliens Siege Missions adds two challenging mission variants that scale very significantly in difficulty over time.
WARNING: Siege Missions can be heavily intensive, unnecessarily difficult, and may not play well on older computers.
Siege: Haven Massacre
A Heavy Assault Force has descended upon a resistance haven in retaliation. Deploy up to ten soldiers to fight the enemy and rescue as many civilians as possible.
Siege: Avenger Assault
Face off against the Chosen and an overwhelming horde of their minions in a desperate battle for the continued survival of the XCOM Project.
This mod may be updated with additional Siege Missions in the future.
Configurability
If you wish to increase or reduce the number of soldiers that can be fielded in a Siege Mission, you can configure the maximum number of soldiers or squads in the XComMissionDefs ini, by altering these values: SquadCount=2, \ SquadSpawnSizeOverride=5, \ MaxSoldiers=5, \
SquadSpawnSizeOverride is critical to enabling soldiers to spawn in, so if you're going to be increasing the number of soldiers in the mission to more than 14, I recommend increasing it by another 1-2. If you increase the number of squads, you'll need to add an additional SquadSizeMin[NumberHere]=0, \ to the mission definition
Note
MaxSoldiers overrides the number of soldiers that can be deployed in a squad, so don't increase it beyond 6 without Robojumper's squad select. Otherwise, there will be UI problems and you won't be able to configure some of the deployed soldiers.
The Vanilla Avenger Assault can be configured using the same method. Mission Defined Squad Sizes do not dynamically scale with mods like Robojumper's squad select, and can only be altered manually.
Download
Revisions:
Old revisions of this mod are available below. Click the link to download.