Lights Tab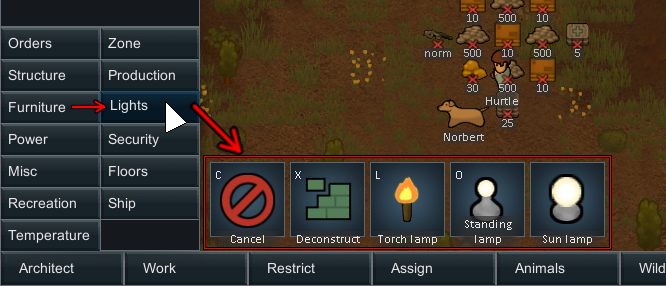 Description:
Torches are not furniture!!!
This mod takes all vanilla lights and some popular modded lights away from the Furniture tab and puts them on their own "Lights" tab!
Finally, no more hunting down those ceiling light blueprints among the pet beds and meal tables!
Compatible with the following mods (it moves these mod's lights to the "Lights" tab instead of having them clutter up the Furniture tab):
* Vanilla Furniture Expanded (Street Lamp) – by Oskar Potocki and Atlas (Note: yes this mod has its own category; I'm applying the same logic for this mod only because it has a lot of content)
* Glass+Lights (Ceiling Lights, Wall Lights, and Outdoor Lights) – by NanoCE
* Wall Light – by Murmur
* Steam Light (Table Lamps, Wall Lamps, and Street Lamp) – by Vagabond
* Wall Sun Lamp – by NECEROS
* Gloomy Furniture – by NukaFrog and Gloomylynx
Also compatible with the Architect Icons Mod (icon exists)
This mod should be compatible with saves. I would not recommend removing any mod and then loading a save, but theoretically there should be only one-time errors if you remove this one.
If you want a mod added to this building category, please let me know on the Steam page!
Also feel free to message me if you are a mod owner; I would love to assist you in adding your lights to this mod or help you make your own category!
Changelog:
+ Pushed to version 1.0.0
+ Added LICENCE.txt for mod
+ Now supports Gloomy Furniture – by NukaFrog and Gloomylynx
* Conflicts with Gloomy Vanilla Overhaul (https://steamcommunity.com/sharedfiles/filedetails/?id=1883678698) and should be loaded after (BELOW) on the load list.