The Privateer Class Mod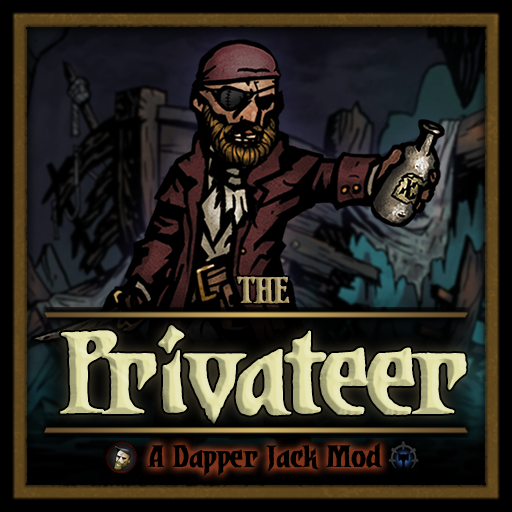 Description:
" Sit right down and 'ave a pint, lad, for the ol' shantyman has a tale to tell of sinnin' and sailin'…"
Having lost his ship and crew to the malevolent seas by the Manor, this shantyman has washed ashore in search of vengeance.
With fiddle in one hand and a bottle o' grog in the other, the Privateer aims to venture into the Darkest of Dungeons.
This all new class mod comes with 5 skins, 7 unique abilities, 3 unique camping skills, 10 class trinkets, customized effects, a town event, and much more!
The Privateer is a mid-row support and stress healer who can be played in a number of ways.
Put him in the front ranks and down some rum to make your Privateer a heavy hitting damage dealer,
or throw him in the back ranks to heal stress and wounds alike!
If your enjoy this mod, please check out my other mod, The Celt!
CREDITS
Original Art by Redhook Studios, Modifications by Dapper Jack.
The 100 trinket art pack used for various assets. You can find it here: https://www.patreon.com/posts/14426563
Special Thanks to this amazing modding community and all of its endless resources, guides, and help.
Disclaimer
'The Privateer Class' is not an official Red Hook Studios product or product modification, and Red Hook Studios Inc.
is not responsible in any way for changes or damages that may result from using the mod.
Furthermore, "Darkest Dungeon" and the Darkest Dungeon logo are trademarks of Red Hook Studios Inc.
All content in the game is Copyright Red Hook Studios Inc. All rights reserved
Download
Revisions:
Old revisions of this mod are available below. Click the link to download.