IPECAC Community Mod Pre-Release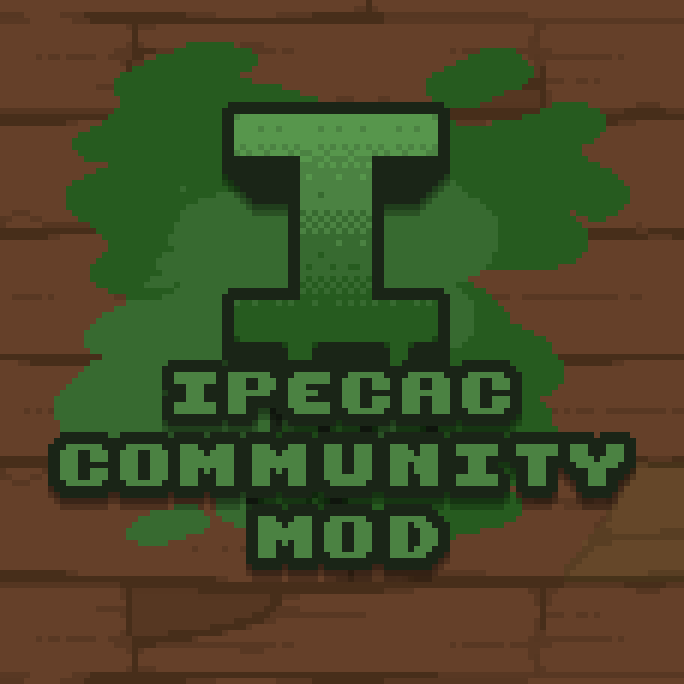 Description:
Warning: From this version (1.1.4) onwards, the Transformations+ API is a requirement for the mod to work.
The Long-awaited (?) IPECAC Community Mod is finally on Steam!
Adding many new items, enemies, trinkets and more, many suggested by you! Well, maybe not exactly "you", but, by people like you, who decided to contribute with ideas for features. We've gathered those ideas around, from all over the internet, to, with the authors's permission, implement them into on neat package. This mod is the result of the combined efforts of many people, many of which don't have too much free time to dedicate to it, but still did their best into making this a reality. Thus, this is far from a final version of the mod, just a pre-release, so you can get the sweet taste of what's to come.
The Mod's current features include:
– 1 New Character
– 6 New Enemies (and many more to be implemented)
– 30 New Trinkets
– Over 90 New Items (Including Lil Larry!)
– 11 New Transformations (and changes to the existing ones)
– 26 New Achievements
– Blitz Mode: race against the clock to finish each room and level within a quite narrow limit, having your items rerolled every few seconds! (currently being tested, available through the options menu)
– And much more!
The mod is intentionally compatible with the following:
– External Item Descriptions: https://steamcommunity.com/sharedfiles/filedetails/?id=836319872
– Custom Death icons (still WIP, for many items)
– Revelations (Ch. 1 and 2)
– Deliverance
– Lost and Forgotten
– Mod Config Menu: https://steamcommunity.com/workshop/filedetails/?id=1603631350
– Transformation+ API: https://steamcommunity.com/sharedfiles/filedetails/?id=2017470444
Some other mods may or may not work fine with this, although we're willing to do as much as it's feasible to increase compatibility. If you'd like us to add some interaction with your mod, or just change things around so both can run smoothly, just tell us!
All non-staff contributors can be found listed here: (if you should be but aren't, contact us so we can fix that as soon as possible!)
https://ipecaccommunitymod.wordpress.com/credits
More information on the mod (as well as a .zip download) can be found at https://ipecaccommunitymod.wordpress.com/
We also tend to be quite active a our discord, so, feel free to send us any feedback or suggestions, or whatever in there:
https://discord.gg/Jzt9REK
For more information on all of the features, check out the (work-in-progress) wiki we're setting up:
https://ipecacmod.gamepedia.com/The_Binding_of_Isaac:_IPECAC_Wiki
Download
Revisions:
Old revisions of this mod are available below. Click the link to download.