Calradian Kings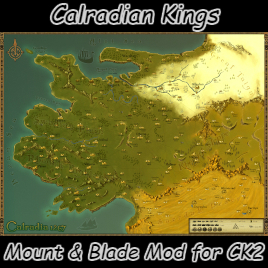 Description:
Current Version: 1.2.2
Checksum: WUBQ
Compatibility: CK2 3.2.1 (Holy Fury)
Music Pack: Calradian Kings Music
Recommended DLCs
The Sword of Islam
The Republic
The Old Gods or Holy Fury
Horse Lord
Customization Pack
All Portrait Packs
Features
A medieval alternate history world in an alternate continent named Calradia instead of Europa.
A huge map contains that whole continent of Calradia which is shown exactly in Mount&Blade: Warband.
Total 765 provinces from basic 180 Mount&Blade: Warband fiefs as duchies.
You can play as a player specific mercenary warband and then you can reunite all over Calradian Empire!
22 kingdoms for classic factions of Calradia.
Around 30 extended cultures for Calradian peoples with basic 6 factions of Calradia.
Vanilla religions for Calradian people.
Optional: Whole new soundtrack including Warrider, Mount&Blade, and Warband musics!
And of course, we have Zendar!
Credits
A list of people who have worked on this mod since development started, and credits for artwork and music.
Founder & Project Leader
Savaş Çoruh as CradonWar
Codes
Savaş Çoruh – History, General Additions, English Localisation
Gustavo Oliveira as Magnus Helvetti – History
Tanner Flick as tsf4 – History, General Additions
Aleksa Krivošija as SBolshevik – History, General Additions
Tomi Mäkelä as Chlodio – General Additions
Yvinis Alves de Almeida as Yvinis – General Additions & Bugfixes
Graphics & Artworks
Savaş Çoruh – Map, Paintings, Artworks
Mert Gültekin as BlackOtto – Map
Shade2 – Map
Testers
Alper Öcal as r.alper
Translation
Zafer Çoruh as CrusonVictor
Thanks
TRT – Diriliş: Ertuğrul TV series for the main theme we used.
Deniz Kocatürk as Wolfaust – Early Stages of Map
Altay Göktan as 8bit – Early Stages of Map
cRPG Mod Team – Strategus Map of Calradia
Korbah – Resource of Flag Templates, Adoption Decision
Arakhor – Adoption Decision
logan.monk– Thick and Thin Borders
A special thanks to the team who made this entire mod possible: TaleWorlds Entertainment
We have probably missed out some one who helped or contributed at some point, just let us know and we will add you to the list.
Links
Paradox Interactive Forums[forum.paradoxplaza.com]
ModDB (Including Music)
{LINK REMOVED}Mediafire (Including Music)