Halo Reach: MJOLNIR (NO SCRIPT)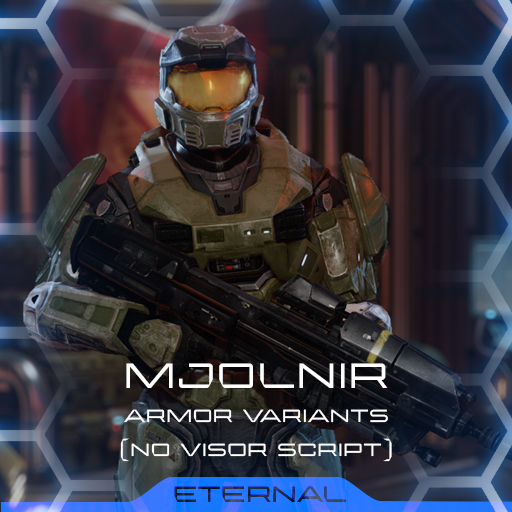 Description:
Halo Reach: MJOLNIR Spartan Armor Variants (NO SCRIPT VERSION)
Helmet Color List (To be completed…):
Air Assault – Silver Visor
ODST – Dark Blue Visor
CQC – Black Visor
CQB – Gold Visor
EVA – Gold Visor
EVA [S] – Red/Orange Visor
EVA [S] (Non-emile variants) – Silver Visor
Grenadier – Red Visor
Mark VI – Gold Visor
Mark V – Gold Visor
UPDATED – 19/05/2020
I have uploaded this version of the mod without the visor color script due to its compatibility issues with other mods.
The original versions will still be available for those who wish to use them.
Thanks to those who posted awesome screenshots for me to put as previews!
Acorns, Mr. Bibbles, Wikia, Mr. Hinx, and everyone else who helped making this awesome gallery. Lets keep those screenshots coming!
This mod contains all the MJOLNIR Spartan Armor Variants available in Halo Reach's Multiplayer Armory, including Helmets with their respective Attachments, and even more Visor Colors and Attachments than previously available.
RECOMMENDATION: Create a Vanilla character pool and use that if you wish to avoid having MJOLNIR Armor Sets (Or any DLC Armor Sets) on rookies. Sorry but it's the only way I found to fix this.
___________________
Please comment down below if you spot things out of place or stuff that should be fixed!
Thanks to Nigel Thornberry for his assistance in the beginning with some issues.
By the way if you haven't already, you really should REALLY get these, they're great mods!
Infantry Class by [762]CobraUSN – http://steamcommunity.com/sharedfiles/filedetails/?id=625497769
Buck Voice Pack – http://steamcommunity.com/sharedfiles/filedetails/?id=630254147
Johnson Voice Pack – http://steamcommunity.com/sharedfiles/filedetails/?id=626163020
Noble Team Voice Pack – http://steamcommunity.com/sharedfiles/filedetails/?id=654895906
Halo 5: Guardians Armor Sets – http://steamcommunity.com/sharedfiles/filedetails/?id=660597695
_____________
FAQ
Q: How do I change the visor color?
A: You cannot change the visor color in this version of the mod.
Q: Can I use MJOLNIR Arms/Legs/Decos with any of the vanilla armor?
A: Not really something I'd recommend, the parts in this mod are designed to be used only with one another, you should not use a Standard/Vanilla torso with any of the MJOLNIR Parts. (Helmets maybe?) Sorry!
Q: Why does my character have invisible legs? I can't seem to make him have the armor!
A: Did you check that you were using the correct torso? It is all one set, therefore when you use the correct torsos it locks you to use Spartan parts only, unabling you to have "Invisible" Parts.
Q: Can this corrupt my savegame?
A: Well, it's a mod… mods can do weird stuff.
______________
Copyright
While rigging, material and skeletal conversion, and the mod itself was made by me, ALL Halo Reach Assets were extracted from the game, they were created originally by Bungie/Microsoft and I only intend to make fair use of such assets.
___________________________
Special Message:
Thanks to iteration 9 and Mr. Bibbles for morale boosting and supporting the mod the whole way!
Thanks to DrakkonWarrior, and Jesse Fleet, amongst many other people, for helping test the mod and polish it by warning about bugs!
Remember Reach.