[WOTC] Resident Evil 5: Albert Wesker (Midnight)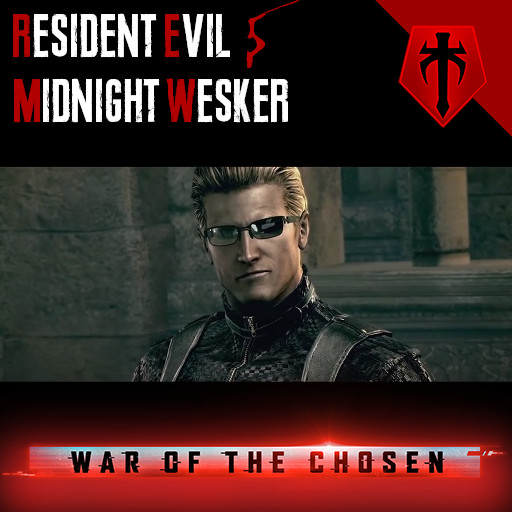 Description:
DISCLAIMER: This mod adds a custom head – you must have X2WOTCCommunityHighlander installed when using Mods with custom heads!
Quote:
"We last met at the Spencer Estate, wasn't it? Well, isn't this one big family reunion."
The Enemy of my Enemy…
Albert Wesker is the former Captain of the S.T.A.R.S. Alpha Team, who he insidiously betrayed to Umbrella. His sinister plans may have been delayed by Redfield and Valentine, but his current focus is set upon getting rid of the Elders. XCom & Bradford may come to regret this temporary alliance–but Wesker's offer to aid in their struggle is one they cannot refuse.
Features:
Midnight Wesker gear with Trench Coat — Male Only — you may find these under names like "Midnight Wesker Torso (Coat) (RE5)." The lower half of the trench coat may be found on the "Thighs" body part category, and features (rough) physics, made through Unreal Physics Asset.
Midnight Wesker gear (no trench coat) — The no trench coat options are found on both the Torso & Arms body part categories. You may find these under names like "Midnight Wesker Torso (RE5)."
Midnight Wesker Head + Glasses, now featuring glowing eyes and (mostly) correct FACIAL WEIGHTS! The Glasses are found in the Head's Upper Prop category.
Allow your soldiers to throw Wesker's Glasses in ridiculous fashion in the Photobooth Mode!
Check out my other Mod(s):
Resident Evil 3: Remake Jill Valentine S.T.A.R.S.
Resident Evil 6: Chris Redfield BSAA (Edonia)
Resident Evil 6: BSAA Soldiers (Edonia)
Resident Evil 5: Jill Valentine BSAA
Resident Evil 5: Sheva Alomar BSAA
Want to Support Me?
If you are feeling generous, you can support me with small donations on my paypal. [paypal.me] It is appreciated, but by no means necessary!
WHAT'S NEXT?
A few more Resident Evil characters are currently in the works, along with potential facial weights for my STARS Jill Mod, a familiar weapon, and – if all goes well – a special enemy! I may look into learning how to implement voice packs as well, but no promises there.
I would love to add Wesker as a custom, persistent, enemy, but my current skill set for that task is not up to par. I would love to also give him a custom animation set on top of this to truly bring the threat of complete, global, saturation to the world of XCom 2. I may eventually take steps towards this, but it currently feels like a monumental task!
Credits & Special Thanks:
ALL CONTENT BELONGS TO THEIR ORIGINAL AUTHOR(S)/OWNER(S). ALL RIGHTS RESERVED.
Capcom for developing and publishing Resident Evil 5 and all its assets!
Snakeyboy's Resident Evil 3 Font[www.deviantart.com], which is featured as part of the Mod Preview picture! Please show him your support – it's incredible!