[WOTC] Reduced XCOM Weapon FX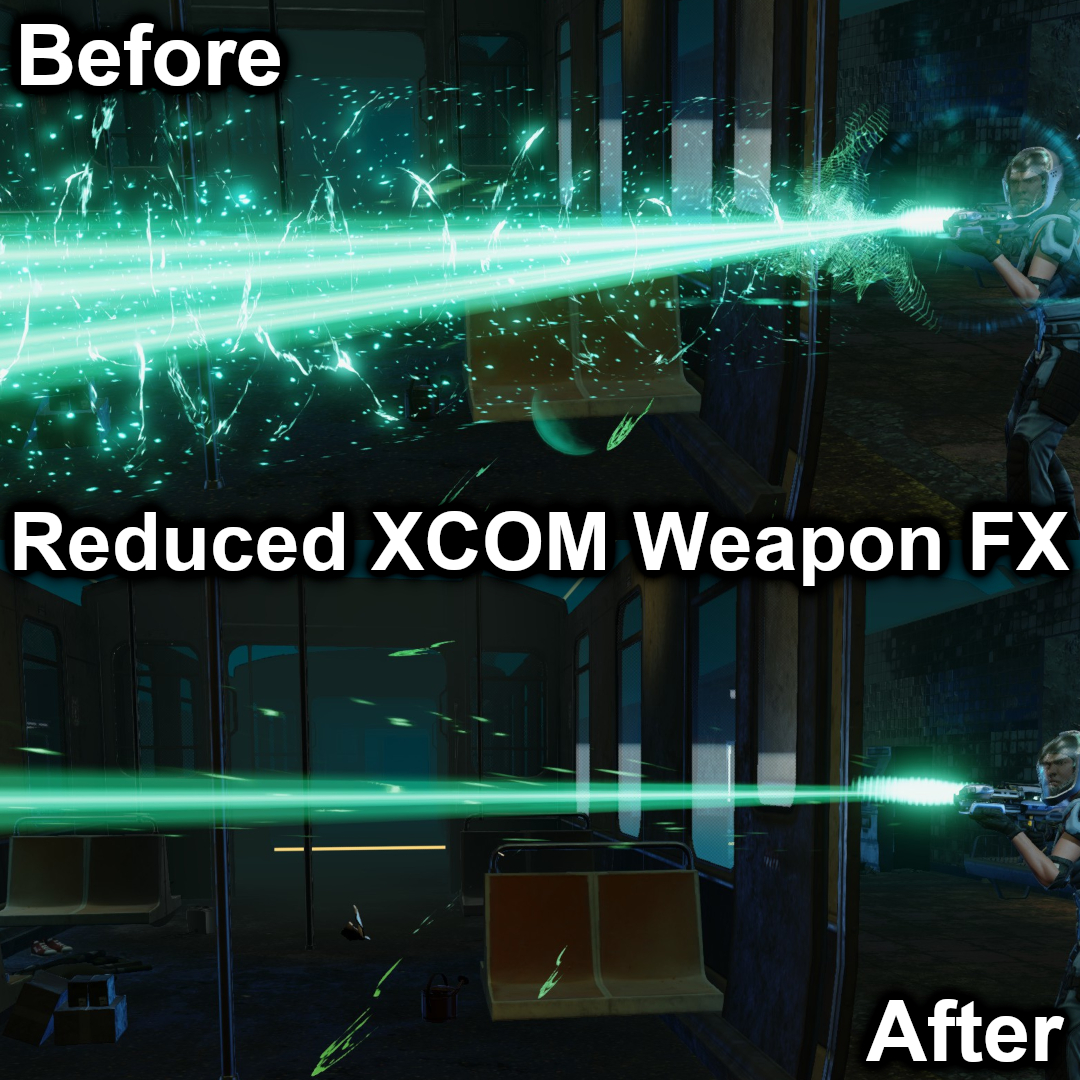 Description:
If you play with Idle Suppression or any mod that makes units fire their guns a lot, you'll know that using mods such as these tend to lower your FPS quite a bit when there's a lot of units firing at the same time.
You'll notice your FPS gradually decreasing over time as well, until you re-load a save.
These are problems known by the community and is being looked into by the lovely people working on the Highlander, but until those problems are fixed, there's not much we can do to ease the performance hit.
Enter Reduced XCOM Weapon FX, my way of trying to put a band-aid on this problem by effectively nerfing the ♥♥♥♥ out of XCOM's weaponry, stripping down the particle FX of their guns in hopes of reducing that performance hit.
Now, since i have a fairly beefy computer and can run Idle Suppression without TOO much FPS loss, i'd like to know in the comments if this mod helps your performance and to what degree.
That being said, i've done a quick performance test of these mods which you can find here.
You can find the Alien Weapon version of this mod here.
————————————————-
FEATURES:
Toned down XCOM weapon particle effects using Iridar's Weapon Skin Replacer, the weapons include:
-All 3 Tiers of Assault Rifles
-All 3 Tiers of Shotguns
-All 3 Tiers of Cannons
-All 3 Tiers of Sniper Rifles
-All 3 Tiers of Pistols
-All 3 Tiers of Hero Weapons
-The Resistance Haven Milita Rifles
If you don't like how i toned down a particular weapon, you can remove it's entry in the XComWeaponSkinReplacer file.
————————————————-
KNOWN ISSUES:
-None that i know of.
Tell me if you find any, i'll see if i can do something about it.
No, there won't be a Vanilla version of this.
————————————————-
CHANGELOG:
-None (yet)