Lokerian's no Morale penalty by difficulty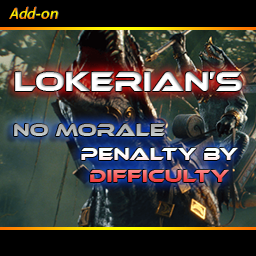 Description:
Hello Folks!.
Its been a while, i only recently got back into playing some Warhammer, and it was a nice surprise to see all the new improvements.
With that said something that always bothered me was the way the Game would punish your morale when playing on harder difficulties.
I'm fully aware that many would consider this mod as a cheat, but i believe the computer is given enough advantages as it is that i don't need my units to instantly fall apart just because the game is "harder" in these difficulty.
What Does this Mod Do:
This Mod Removes The Morale penalty given to the player and the bonuses given to the AI by increased game difficulty.
This mod does NOT change the settings for Normal & Easy Difficulties, this only applies to hard and above.
That's it, Simple as it sounds, its fully compatible with any mod that does not affect Difficulty Morale specific settings.
It should work fine with other morale mods that are based on the units instead of the difficulty bonus/penalty.
Thank you all and will see you around 🙂