Waterproof Transformer + Battery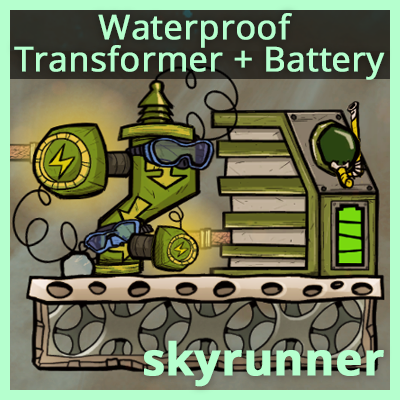 Description:
Waterproof Transformer + Battery
Ever wanted to install high voltage electric circuits underwater, but were stymied by ONI's utter lack of submersible electric hardware? Now with the Waterproof Transformer and Battery, you, too, can build transformers and smart batteries – underwater!
But wait, there's more! The Waterproof Transformer is also capable of transmitting up to 2000 W, as compared to 1000 W of a typical Small Transformer! It costs 150 kg Refined Metal and 50 kg Transparent to build (the scuba goggles, you see), and is unlocked with Renewable Energy tech.
The Waterproof Battery is unlocked alongside its less swim-capable cousin, the Smart Battery, when you research Generic Sensors. It also costs 150 kg Refined Metal and 50 kg Transparent.
Remember: Hydrate before you diedrate, and have a great time swimming with the fishies… in style!
Updates
2020-03-12 v.1.3.0: Compatible with Banhi's Automation Update.
2020-02-25 v1.1.0: Updated to Net 4.0.
Thanks
Thank you, the very talented Annie for providing custom sprites for this mod!
Patreon
If you enjoy my mods and want to show your appreciation, I now have a Patreon![www.patreon.com] The artist who made the raditudinal Transformer sprites, Annie, has a Patreon[www.patreon.com] too!
Issues
If you encounter any issues with the mod, please open an issue on the Github repository[github.com]. I do not guarantee that I will act on any reports made through Steam Comments. If you do not provide steps to reproducing the issue, the issue will likely not be acted on.