Insulated Farm Tiles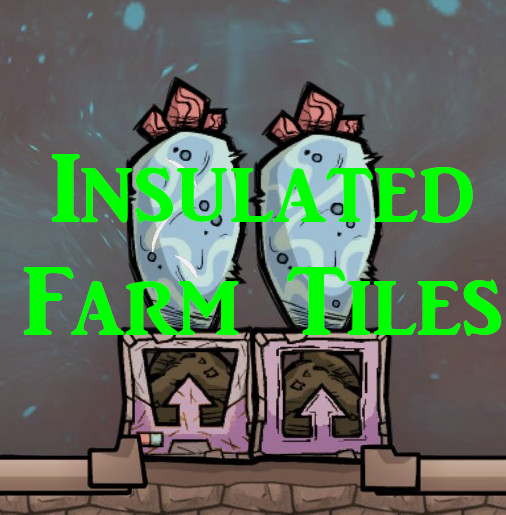 Description:
Insulated Farm Tiles
Purpose
Insulated versions of the Farm and Hydroponic Tiles. They both take 200kg of the same materials as needed for regular Insulated Tiles. They unlock with the same research (Gourmet Meal Preparation) as the Gas Range and can be found in the Food menu.
Future plan is to try and make them need two researches to unlock each type. You'd need both Insulated Tiles as well as Farm or Hydroponic Tiles unlocked to have these unlocked. This should be doable, there are other buildings that have dual requirements, it might even be easy but then again it might not 😛
I'm sure there are other uses for these but the main inspiration for this mod was all the people complaining about wheezeworts needing phosphorite so they couldn't seal their builds in insulation. Well now your farm tiles can be the insulation and still be fed from outside a sealed room.
Bugs and Feature requests
Please use the github issues[github.com] page for reporting bugs or requesting new features.
Please do not report bugs here on Steam, I will not check here frequently, use the github link above and I will get a notification.
Acknowledgements
Thanks to the people who have helped me, this is my first experience modding and with C#.
* The fine folks on the ONI Discord[discord.gg] especially #mod-development.
* I'd especially like to thank Cairath[github.com] for the great mods and for being so helpful on the Discord.
* chromiumboy[github.com] for the great intro tutorial[forums.kleientertainment.com] posted to the Klei forums.
Thanks everyone!!
Known Issues
None
ONI Version
AP-408920-D
Source Code
Bokonon's ONI Mods on github[github.com]
Changes
1.0.3.0 – Fix for update 408920
1.0.2.0 – Fix update (398142) fallout: update to .NET 4.0
– Doubled build time
1.0.1.0 – Fix update (364722) fallout, rework internal code, move required research from "Temperature Modulation" to "Gourmet Meal Preparation"
1.0.0.0 – Initial release