[WOTC] Half-Life 2 Weapon Pack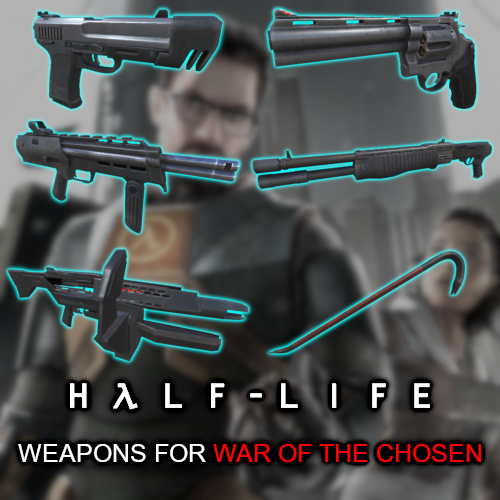 Description:
"I took the liberty of relieving you of your weapons; most of them were government property. As for the Commander… I think you've earned him."
"Don't forget to reload, Commander!"
NOTE: If the gun fire audio sounds a bit louder/quieter compared to the Vanilla guns, i don't have access to my headphones at this time and i'm stuck with some cheaper speakers, so i'm not able to fine-tune the audio as well. Tell me in the comments if something needs to be adjusted.
(Before you ask, the reason why the Tier 1 versions of these guns have Tier 3 stats in the screenshots is because i'm using E3245's Global Weapon Stat Changer.)
————————————————-
FEATURES:
Various weapons from Half-Life 2, including:
MELEE:
-The Crowbar
PISTOLS:
-The H&K USP
-The Colt Python
SMGs:
-The H&K MP7 (I had to substitue the MP7's straight grip with the T1 Assault Rifle's diagonal grip, so it wouldn't cause any clipping issues)
ASSAULT RIFLES:
-The Combine AR2
SHOTGUNS:
-The Franchi SPAS-12
They all come with their original firing sounds.
All of them except the Crowbar come with support for Attachments, which requires Weapon Skin Replacer to utilize.
All pistols support Primary Secondaries.
The MP7 uses the Long War SMG stats.
All stats can be changed inside the config files.
————————————————-
KNOWN ISSUES:
-The Soldiers' left hands clip through the MP7, the Spas-12 and the AR2, due to their size and shape difference compared to the XCOM guns (I could've just taken off the fore grip on the MP7 so it wouldn't clip, but i feel like doing that would also strip the gun of it's unique shape, so i left it attached)
If the guns don't show up mid-campaign, you likely need to start a new campaign.
Tell me if you find any more, i'll see if i can do something about it.
No, there won't be a Vanilla version of this.
————————————————-
CHANGELOG:
-None (yet)
————————————————-
CREDITS:
Juniez – Creator of the HD Half-Life 2 models and textures used in this pack, which i took from here.
Pavonis Interactive – Creators of the SMG code used in this pack
Valve – Creators of the Half-Life series, the original designers of these weapons, and the creators of the gun fire SFX used in this pack