x2 Stacks 1.0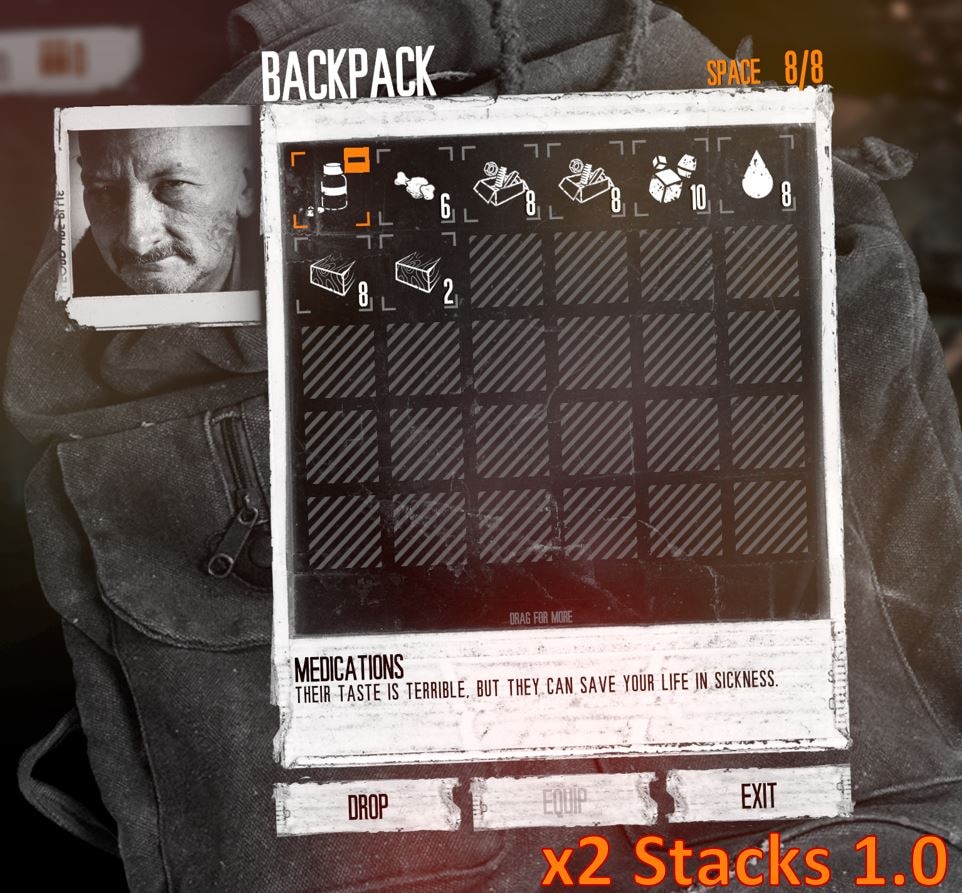 Description:
So I tried the many increased stacks mods on the workshop here. And none really worked or was too overkill. So I created my own.
I was irritated over the small amount of loot u could bring home, so I tried to double most of it and my game experience was a lot better.
This doesn't make the game too easy, but more casual. Try it 🙂
Works in Final Cut and Stories.
Changes: (first number vanilla next ">" is my change.
Ammo – 20>40
Bandages – 2>4
Book – 2>4
Electric Parts 4>8
Filter 4>8
Herbal Meds 2>4
Home Grown Tobacco 4>8
Jared Food 2>4
Materials 4>8
Med Ingredients 4>8
Meds 2>4
Parts 4>8
Raw Food 4>8
Rifle Ammo 20>40
Shotgun Ammo 20>40
Sugar 10>20
Tobacco 4>8
Vegetables 4>8
Water 10>20
Wood 2>4
_____________________________
Поэтому я попробовал множество модов с увеличенными стеками в мастерской здесь. И ни один не работал. Поэтому я создал свой собственный.
Меня раздражало небольшое количество лута, которое можно было принести домой, поэтому я попытался удвоить большую его часть, и мой игровой опыт стал намного лучше.
Это не делает игру слишком легкой, но более казуальной. Попробуй 🙂
Изменения: (первая цифра ванильная, следующая ">" – моя сдача.
Боеприпасы – 20>40
Бинты – 2>4
Книга – 2>4
Электрические детали 4>8
Фильтр 4>8
Лекарства из трав 2>4
Домашний табак 4>8
Джаред Фуд 2>4
Материалы 4>8
Мед ингредиенты 4>8
Мед 2>4
Части 4>8
Сыроедение 4>8
Боеприпасы для винтовки 20>40
Боеприпасы для дробовика 20>40
Сахар 10>20
Табак 4>8
Овощи 4>8
Вода 10>20
Дерево 2>4
_____________________________
所以我在这里的研讨会上尝试了许多增加的堆栈模组。 没有一个奏效。 所以我创建了自己的。
我对你能带回家的少量战利品感到恼火,所以我试着把大部分战利品加倍,我的游戏体验好多了。
这不会让游戏变得太简单,而是更随意。 尝试一下 :-)
更改:(第一个数字原始下一个">"是我的更改。
弹药 – 20> 40
绷带 – 2>4
书 – 2>4
电装4>8
过滤器 4>8
草药 2>4
自家种植的烟草 4>8
贾里德食品 2>4
材料4>8
药物成分 4>8
药物 2>4
第 4>8 部分
生食 4>8
步枪弹药 20>40
霰弹枪弹药 20>40
糖10>20
烟草4>8
蔬菜4>8
水10>20
木2>4