Stack, Unbreakable Tools and visitor early+++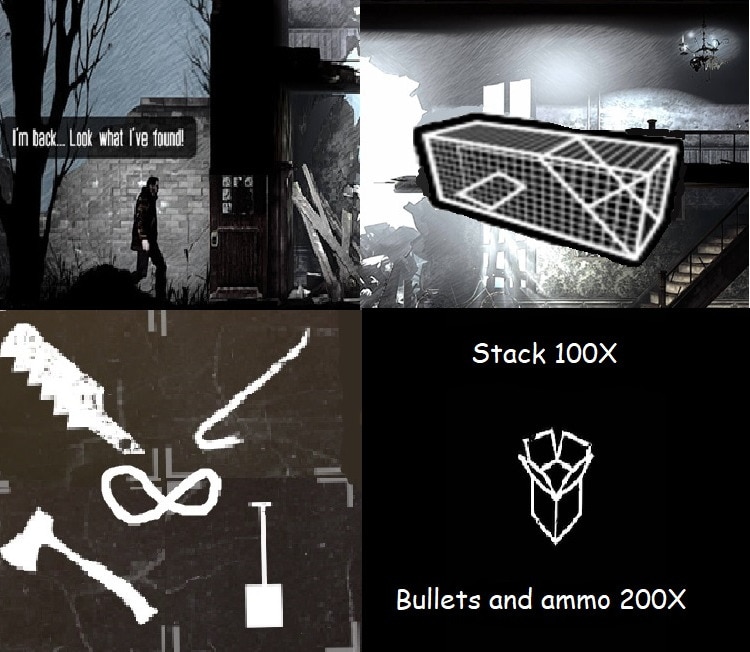 Description:
Stack, Unbreakable Tools and visitor early+++
Updated 2023
Some mods i used stopped working, so i merged them all into one, took a long time..
(Portuguese)
Alguns mods que eu usei parou de funcionar, então eu juntei todos em um só, levou um bom tempo..
My other mod = More Loot ++ But Random
——————————————Mod-Information——————————————
All Item stacked up to 100
Ammo to 200
(Portuguese)
pode carregar 100 de todos items
Munições pode 200
Unlimited Trap in your house
Armadilhas ilimitadas na sua casa
Unbreakable Tools
Ferramentas não quebra
Now your visitor and Traders will come 7 A.M or Early ( it's not every day, but the day he shows up he comes early )
Visitantes e mercadores vem bater na porta as 7 da manhã ou antes ( não é todo dia mas no dia que ele for vir ele vem cedo )
——————————————————————————————————
To work correctly, after signing up for the mod, enter the game and activate the mod in-game workshop, close and reopen the game, it works on existing saves but it is recommended to create a new one, and you will need Season pass too, not sure if this will work just on normal game, but you can try if you don´t have Season pass, and let me know if you get it without the dlc.
If something stops working or doesn't work correctly, let me know too so I can update the mod.
(Portuguese)
Para funcionar certinho, apos inscrever no mod, entre no jogo e ative o mod na oficina dentro do jogo, feche e abra novamente o jogo, funciona em saves existentes mas é recomendado criar um novo, não sei se ira funcionar sem o Season Pass, mas você pode tentar se não tiver a dlc, e informe caso conseguir sem a dlc .
Se alguma coisa coisa parar de funcionar ou não funcionar corretamente, me informe para eu atualizar o mod.